This Woman Accused Trump Of Sexual Misconduct. Now She's Running For Office Herself.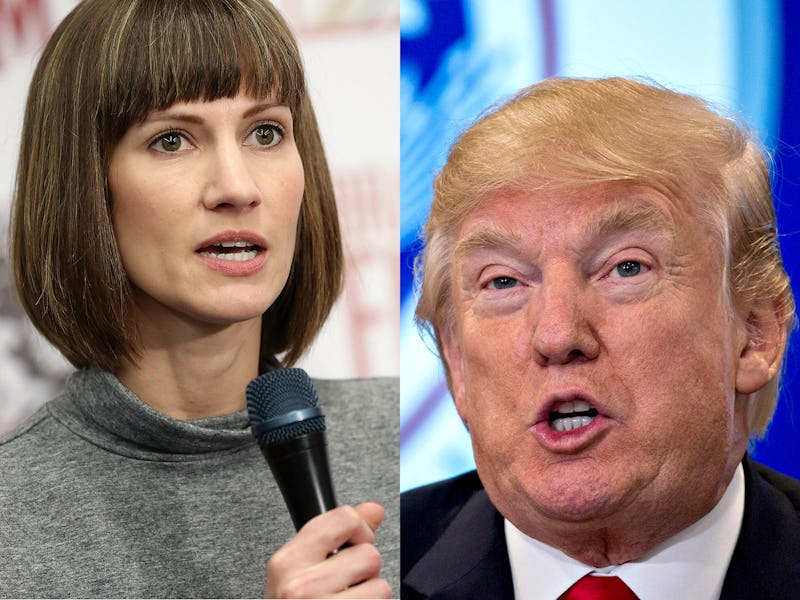 Monica Schipper/Getty Images News/Getty Images; Pool/Getty Images News/Getty Images
Multiple women who have publicly accused President Donald Trump of sexual misconduct have refused to remain quiet, and now one of Trump's accusers, Rachel Crooks, is running for office. The 35-year-old told Cosmopolitan she's running for a seat in Ohio's state legislature as a Democrat. You may recognize Crooks as one of the three Trump accusers who called for Congress to investigate the president's behavior back in December.
Crooks first accused Trump in 2016 of forcibly kissing her outside an elevator in Trump Tower in 2005. Trump has repeatedly denied all allegations of sexual misconduct after being publicly accused by at least 17 women, and the White House has called his accusers liars. In December, Crooks joined Samantha Holvey and Jessica Leeds at a press conference and a subsequent TODAY show appearance to remind the public of their allegations and demand that Congress take action.
"They were more than willing to do that for Senator Franken. Why is the president immune to that?" Crooks asked of congressional investigations on TODAY.
Her disgust with Trump is part of the reason she's now running for office herself. "I think my voice should have been heard then, and I'll still fight for it to be heard now," Crooks told Cosmo. "Americans are really upset with politics as usual, and I want to be a voice for them."
Crooks said she was encouraged to run for Ohio's House District 88 by a liberal resistance group, Seneca County Rising, as she previously didn't see herself as a politician. As she told Cosmo:
[M]ultiple people encouraged and said, "I think you would be great." Once you hear it a few times, you start to believe it a little bit, and fully consider it. Once I sat down and mulled it over, I felt like it really was a duty that I had, that I should take on this responsibility firsthand and try to make a difference for other people.
While she was inspired by the progressive momentum created by Trump's presidency and the growing #MeToo movement, she doesn't want people to vote for her simply because she's a Trump accuser.
I think there will be a lot of people who see value in [my campaign]. But I hope more so because I'm a viable candidate rather than a participant in the #MeToo movement.
Crooks is challenging two-term Republican incumbent Bill Reineke. She is running on a platform centered around creating jobs, ensuring affordable healthcare, and funding public schools. Crooks has a background in the field of education — currently, she serves as the director of international student recruitment at Heidelberg University, having previously worked at Bowling Green State University and Tiffin University. She has an undergraduate degree in law and society, a master's degree in humanities, and is pursuing a Ph.D. in higher education administration, according to her LinkedIn profile.
The Democratic primary on May 8 will determine whether or not she'll compete with Reineke on the Nov. 6 ballot, but she already has the support of Ohio's Democratic Party. Although her district voted for Trump in the 2016 election after electing Barack Obama twice, she thinks Trump's "erratic and ineffective" presidency will swing the region back to blue.
Crooks has called 2017 a "disaster" under the Trump administration. However, she did not express optimism about Trump being impeached when she brought her allegations back into the spotlight last year.
"Unless Congress gets the courage to act as a body and hold him accountable, then nothing is going to happen," she said on TODAY. "He really seems to be Teflon because it's not just the sexual aggression issues. He's not a good businessman, he's a lousy administrator... This year has been a disaster ― except when he describes it. He's just so out of touch with reality."
Regardless of what actions Congress does or doesn't take, Crooks wants to enter politics and take the issues she cares most about into her own hands.