The White House Promises To Punish Alaska If Lisa Murkowski Doesn't Vote For Trumpcare — REPORT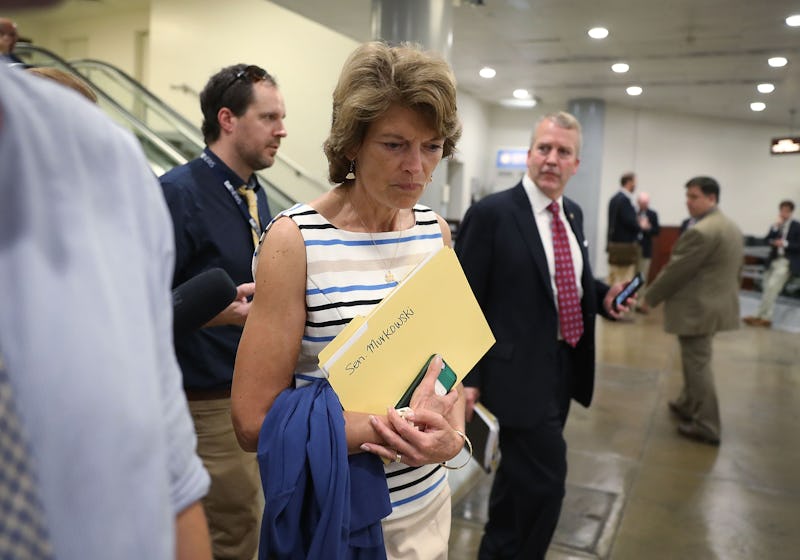 Joe Raedle/Getty Images News/Getty Images
As Republicans continue to struggle over repealing and replacing Obamacare without upending the health care sector (or their own congressional majority), Sen. Lisa Murkowski of Alaska has been one of the two lone Republicans — along with Susan Collins of Maine — who voted against Tuesday's Motion To Proceed on the health care bill, the procedural step that allows a vote on... Something. And in response, the Alaska Dispatch News reported that the Trump administration is threatening Alaska over Murkowski's health care vote.
According to Sen. Dan Sullivan, Murkowski's partner in the Alaska delegation to the Senate, Interior Secretary Ryan Zinke called both senators and threatened that if Murkowski didn't fall in line on the health care vote, Alaskans would lose some access to funding through the Interior Department, which provides a large sum of money to the sparsely-populated state full of federally owned land. According to the Alaska Dispatch News, the threats include stopping Alaskans from being hired to Interior, as well as cutting off road building projects and attempts to drill for oil in federal land in Alaska. Murkowski was not available for comment to the newspaper. Bustle has reached out to the Interior Department for comment.
Murkowski has made it clear she thinks most of the health care bills proposed by Republican leadership would hurt Alaska, which has extremely high health care costs due to its rural population (it costs a lot to helicopter people to the nearest hospital in an emergency). So she could be facing a situation where her state receives pain either way.
This isn't the first time that Trump has threatened a Senator for defying him on health care. After Dean Heller (R-NV) initially came out against the Republican bill, the pro-Trump group America First Policies ran ads against Heller in Nevada, angering many Republican senators. Later in the process, Trump seemingly threatened Heller again, saying of Heller's opposition, "he wants to remain a senator, doesn't he?" at a meeting with GOP senators to discuss health care.
It's still unclear how credible of a threat Zinke's reported conversations with Alaska's senators will be, and whether or not Murkowski is willing to fold because of it. It's striking that Sullivan, who so far has supported the Republican health care bill and hasn't so far stood up to the Trump administration much, was so eager to tell the Alaska Dispatch News about the calls, suggesting that he doesn't fear the administration's wrath and stands with his fellow senator against them.
Murkowski actually may be strong enough to face down the Trump administration on this and not blink. She's quite popular in her state — according to Morning Consult, 59 percent of Alaskans approve of the job she's doing. That's more popular than Trump, who won the state in November and now has a 51 percent approval there according to Gallup. She is more of an Alaska institution than the Republican party — in 2010, she lost a primary to a more conservative Tea Party opponent, and then won reelection anyway through a write-in ballot campaign. She can probably handle losing the support of the Republican party leadership — Alaskans seem to like her more than they like them.
And beyond that, threats to Murkowski coming from the Department of the Interior seem especially silly, since as chair of the Subcommittee on Interior, Environment, and Related Agencies, Murkowski has direct control over the Interior's budget and plenty of ammunition for her own retaliation if the the administration targets Alaska. Indeed, on Thursday morning, it looks like she may already have started doing that, delaying hearings on nominees to Interior.
If you come at the queen, you better not miss.