Trump Brought Corey Lewandowski To Vegas With Him Despite That "Womp Womp" Remark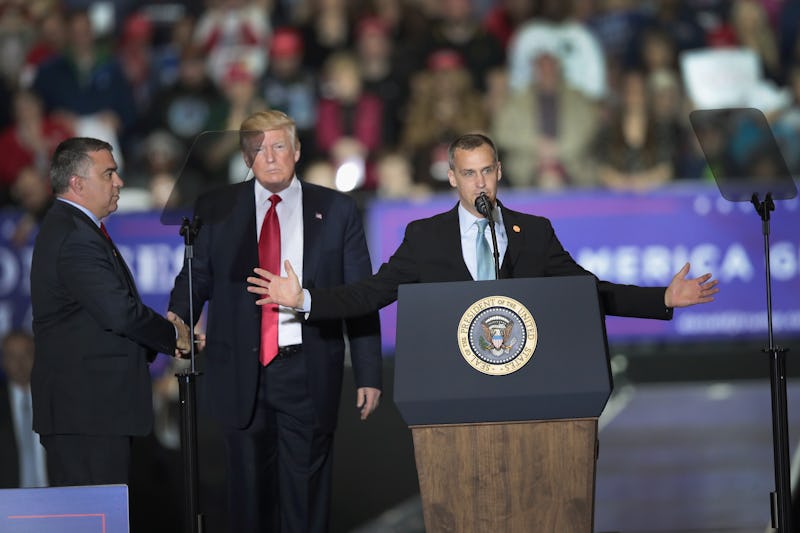 Scott Olson/Getty Images News/Getty Images
POTUS has a familiar face by his side for his latest trip to Las Vegas. Trump brought Corey Lewandowski with him just days after the former campaign manager was criticized for how he responded to reports that a migrant girl with Down syndrome had been separated from her mother.
During a live appearance on Fox News on Tuesday, Democratic strategist Zac Petkanas told the reported story of a 10-year-old Mexican girl with Down syndrome who was separated from her mother after crossing the border. (The Washington Post reported that the girl's father is a legal resident and lives an hour away from where they were apprehended.) Lewandowski responded to the reports with "womp womp" (or as The Associated Press put it "Wah wah").
The reaction immediately sparked criticism and outrage from both ends of the political spectrum. Conservative political commentator Charlie Sykes was in the "wah wah" camp, and said it was "actually worse." Liberal author Amy Siskind said Lewandoski and Trump were "the faces of evil" in her tweet of the video of his appearance.
A pool report from later in the day, however, reported that Lewandowski was well received at the convention. "Corey Lewandowski circulated in the crowd as POTUS was in the supporter roundtable, receiving a celebrity welcome, with dozens of GOP convention attendees taking photos/selfies with him," according to Wall Street Journal reporter Vivian Salama, who was traveling as the pool reporter.
Lewandowski has made no moves to apologize for his reaction. In fact, he managed to blame former President Barack Obama in his non-apology. "Lots of Fake News today. I mocked a liberal who attempted to politicize children as opposed to discussing the real issue which is fixing a broken immigration system. It's offensive that the MSM doesn't want to talk about the fact these policies were started under Obama," Lewandoski wrote on Twitter on Wednesday.
On Thursday, Lewandowski doubled down in an interview with CNN's Chris Cuomo, saying that Petkanas was trying to "politicize an issue" by using a child with Down syndrome. "What Zac was attempting to do was to use a child with Down syndrome to politicize an issue, but what he didn't tell you, what you need to understand was that person, that poor child was not taken from her parent because she came to this country illegally," Lewandowski told the CNN anchor. "That poor child was taken from her parent because her mother has been suspected of being a material witness in a child smuggling ring. And so we have to understand the difference."
Lewandowski said his job is to "defend the laws" of America. "Chris, I'm not here to offend anybody, that's not what I'm here to do," Lewandowski told the anchor. "I'm here to defend the laws of this country. So, if people are offended, then they shouldn't be."
The fallout from his comments have been mixed. Despite his warm reception at the Nevada GOP convention in Las Vegas, Lewandowski has seen some setbacks. He was dropped from one of Washington, D.C.'s leading speakers bureaus following the comments, according to CNN. Leading Authorities, Inc. dropped him from the agency on Wednesday, the news network reported.
Lewandowski was fired from the Trump campaign in 2016, but the appearance on a POTUS trip seems to signal a change in the wind. The Associated Press reported that at a Michigan rally in April, Lewandowski was invited on stage by the president. Trump said his former campaign manager was not "pushover" or a "patsy."
"This is Trump country!" Lewandowski told the crowd at the rally, according to Business Insider. "We love Michigan! Thank you for supporting Donald J. Trump as your next president of the United States!"