Trump Just Canceled His Big Military Parade & He's Pointing A Finger At DC Officials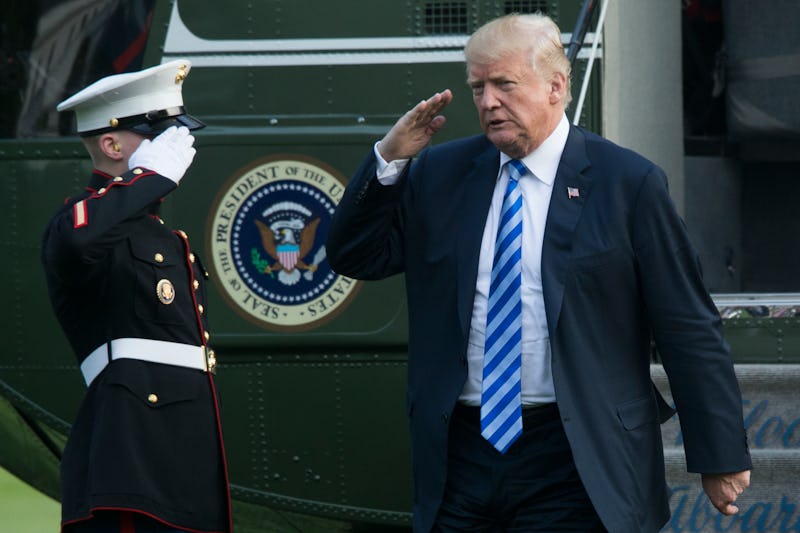 Pool/Getty Images News/Getty Images
If you were hoping to see armored tanks roll down the street in Washington, D.C. later this year, well, it seems you're out of luck. Donald Trump announced Friday that he'd canceled his military parade, blaming D.C. politicians for the "ridiculously" high cost.
"The local politicians who run Washington, D.C. (poorly) know a windfall when they see it," Trump tweeted early Friday morning. "When asked to give us a price for holding a great celebratory military parade, they wanted a number so ridiculously high that I cancelled it. Never let someone hold you up!" The president did not provide proof to back up his claim that D.C. politicians had inflated the cost of the parade.
In response to Trump's claim, D.C. Mayor Muriel E. Bowser revealed Friday that the president's parade would have cost $21.6 million. "Yup, I'm Muriel Bowser, mayor of Washington DC, the local politician who finally got thru to the reality star in the White House with the realities ($21.6M) of parades/events/demonstrations in Trump America (sad)," Bowser tweeted.
But the parade's $21.6 million price tag isn't all that surprising considering previous cost estimates. In February, NPR reported that White House Budget Director Mick Mulvaney had told the House Budget Committee that "very preliminary" cost estimates fell between $10 million and $30 million depending on its size, scope, and length.
In fact, concerns over the parade's potential cost spurred significant bipartisan criticism. Republican Sen. John Kennedy, for example, told reporters in February that he didn't think the parade was "a particularly good idea." He went on to say that "confidence is silent and insecurity is loud" and that America didn't need to show off.
More recently, democratic Sen. Richard Blumenthal criticized the parade's high reported cost, saying "real patriotism should mean $92 million to honor military service & benefit veterans, not glorify politicians." He called for investing in improving veteran health care, employment assistance, and ending veteran homelessness and suicides.
Trump first tossed out the idea of organizing a military parade during an interview with The New York Times in July 2017. While heaping praise on a military parade he'd recently seen in France as part of Bastille Day events, Trump said the United States "should do one one day down Pennsylvania Ave."
A few months later, Trump told French President Emmanuel Macron during a meeting at the United Nations that his administration was thinking about "having a really great parade to show our military strength." At the time, Trump mentioned July 4 and Pennsylvania Avenue as a potential date and location and said he'd already spoken to Chief of Staff John Kelly about beginning the planning process. "We're looking forward to doing that," Trump said, adding that the United States was "going to have to try and top" France's Bastille Day event.
Instead of hosting his massive military parade, Trump said he would attend an already-scheduled parade at Andrews Air Force Base as well as "the Paris parade celebrating the end of the War" on Nov. 11.
But it seems as if Trump isn't tossing out his plans for a military parade altogether. "Maybe we will do something next year in D.C. when the cost comes WAY DOWN," he tweeted Friday. "Now we can buy some more jet fighters!"