Trump Crashed A Wedding In New Jersey (Again) This Weekend & There's Video
Win McNamee/Getty Images News/Getty Images
In a move perhaps more reminiscent of his time as a reality TV star, President Trump crashed a wedding in New Jersey (again) this weekend. A video caught by a guest shows the president surprising the couple at one of his luxury properties, Trump National Golf Club, in Bedminster, New Jersey.
In the clip posted by TMZ, he tells someone behind the camera to "take good care of [the couple]", before shaking the groom's hand, and, to the delighted screams of the guests, kissing the bride on the cheek. One guest yells, "We love you!" as the president and first lady Melania Trump walk upstairs.
This is not the first time Trump has been an unexpected guest at weddings held on his properties. In August 2017, at another wedding at Trump National Golf Club, Secret Service members first secured an area, before the president arrived to take photographs with the couple, sign some "Make America Great Again" hats, and give them out to guests, who apparently chanted, "USA!"
The president's potential appearance seems to have been a selling point for his properties as wedding venues. According to a discontinued brochure obtained by The New York Times, "If [Trump] is on-site for your big day, he will likely stop in & congratulate the happy couple. He may take some photos with you but we ask you and your guests to be respectful of his time & privacy."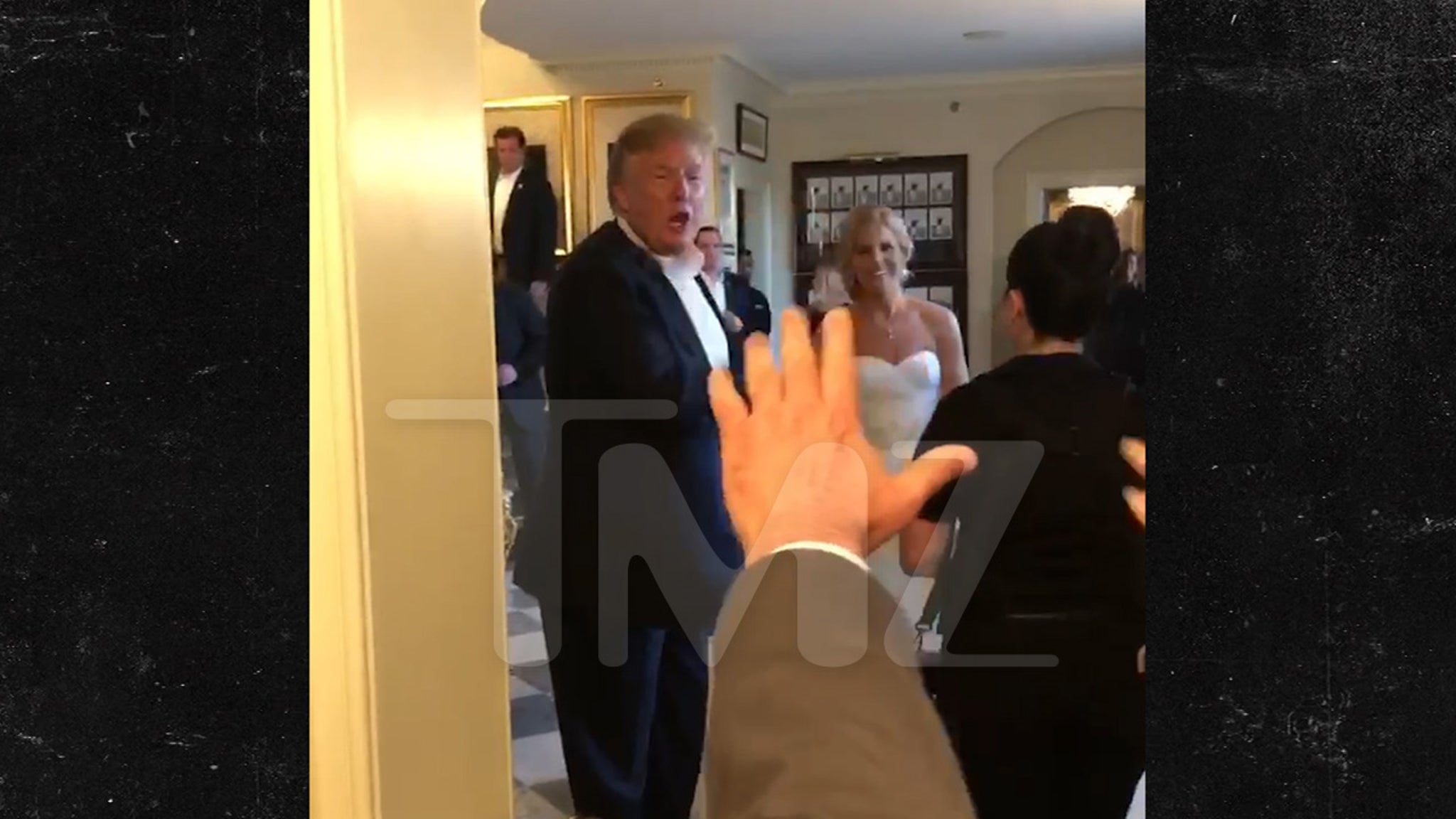 Trump's celebrity appearances — planned or not — are clearly a treat for guests of his estates, and raise questions about whether he is using his stature as president to benefit his private business interests. Critics have said Trump's decision to hand business operations to his children, Eric and Donald Jr., rather than divest ownership entirely, represents a conflict of interest.
The president's complex web of business holdings, real estate, licensing deals, and more was a point of contention during his 2016 presidential campaign. Every president — barring Trump — since the 1970s has voluntarily relinquished control over their private businesses, to avoid even the suggestion of corruption.
"The law's totally on my side," Trump told The New York Times shortly after his election. "The president can't have a conflict of interest."
This isn't technically true. The president and vice president are exempted from conflict of interest laws on the theory that almost any executive action would pose some kind of conflict. However, according to a 2016 report by the Congressional Research Service, "As a general rule, public officials in the executive branch are subject to criminal penalties if they personally and substantially participate in matters in which they (or their immediate families, business partners or associated organizations) hold financial interests."
While on the campaign trail, Trump claimed he would not be involved in his business interests because, "I wouldn't care about anything but our country, anything." However, numerous accusations of conflicts have appeared since he began his term, alleging he hasn't exactly followed through on his promise.
According to a 2018 report by Public Citizen, since Trump took office, more than 60 companies, trade groups, foreign governments, religious organizations, and charities have stayed at or held events at Trump properties. Government officials of Saudi Arabia, Malaysia, and Kuwait, specifically, have reportedly used the Trump International Hotel in Washington, D.C. for events.
Shortly after the 2016 election, Ivanka Trump received flak for promoting her brand in a political setting when her fashion label advertised a $10,800 bracelet that she wore during a 60 Minutes interview with the first family. Following the inauguration, the president's Florida resort, Mar-a-Lago, doubled its initiation fee to $200,000.
Whether Trump's cameo at Friday's wedding in Bedminster was impromptu or not, the implications of his appearance — and what they mean for future precedents of conflict of interest and executive power — go far beyond pleasantries and words of congratulations.