Trump Actually Gives Out His Electoral College Victory Map As Gifts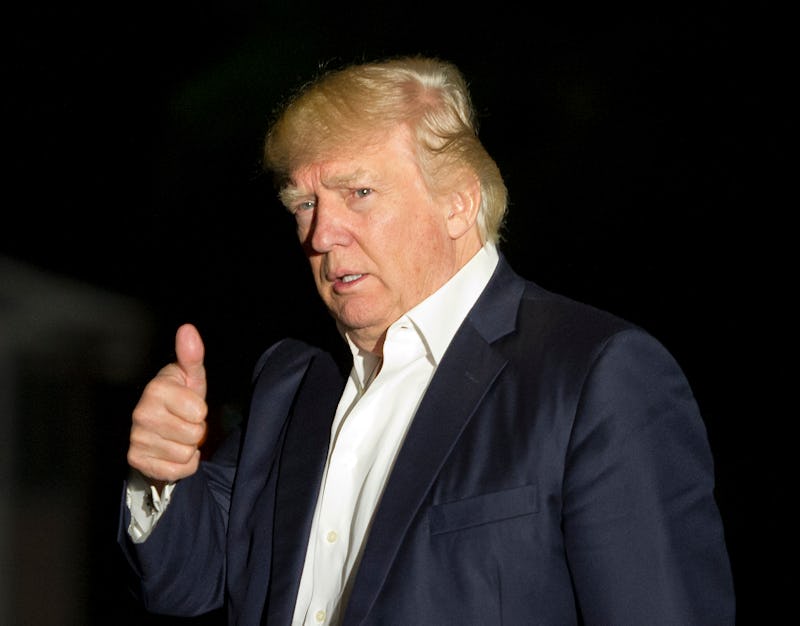 Pool/Getty Images News/Getty Images
If you're a visitor to the Trump White House and you were expecting to walk away with a gold-plated party favor, then you're going to be sorely disappointed. According to a New York Times article, the fixation on the election victory is so real in the White House that Trump offers visitors election victory maps as parting gifts. Yes, really. The president apparently likes to give away mementos celebrating his proudest moment — or his most nagging insecurity. That is a real thing. If you visit the White House, you might just walk away with one of those gorgeous electoral college maps that, as Trump apparently hasn't stopped repeating, he won against all odds.
Maybe you're thinking that he just, you know, printed out a few more than he needed for a presentation or something, and now he's taken to doling out the extras rather than waste the paper and color ink entirely. But wait, did I mention that he also reportedly hung an electoral map somewhere in the White House? And that he asked a Washington Post reporter to run the map on the front page — not on Nov 9, but on Trump's 100th day in office? Those things are also true. "He was sort of playing there, but it speaks to the pride that he has in that map," the Post reporter, Philip Rucker, told MSNBC's Chris Hayes.
You can tell by his actions and his ravings on Twitter and elsewhere that Trump has two main insecurities: the ongoing Trump-Russia investigation that he just can't get rid of, and the fact that he lost the popular vote by a resounding 3 million votes. His Twitter rants, like his claims that the ballots that caused him to lose the popular vote were cast illegally, have only intensified as time goes on. Just going by the numbers, Trump's tweeted about the Russia investigation more than 40 times — and that's not even counting his fully Nixonian, cryptic tweet about tapes that he may or may not have of former FBI director James Comey.
Clearly, he wants talk about his popular vote loss and the Russia investigation to go away. He can create a commission to investigate "electoral integrity" and fire James Comey, but he can't make the loss or the investigation disappear in the world outside of his own head. He also doesn't have a lot of legislative successes to brag about, if at all. Instead, he's brandishing his electoral college victory map around and fobbing it off on White House visitors, who ostensibly know that he won the election and became president because of that. Just in case they ever forget in the midst of all that talk about Russia, though, they'll have Trump's parting gift to remind them.