Trump Jr. Shared A Christmas Meme About His Dad & It Got Real Weird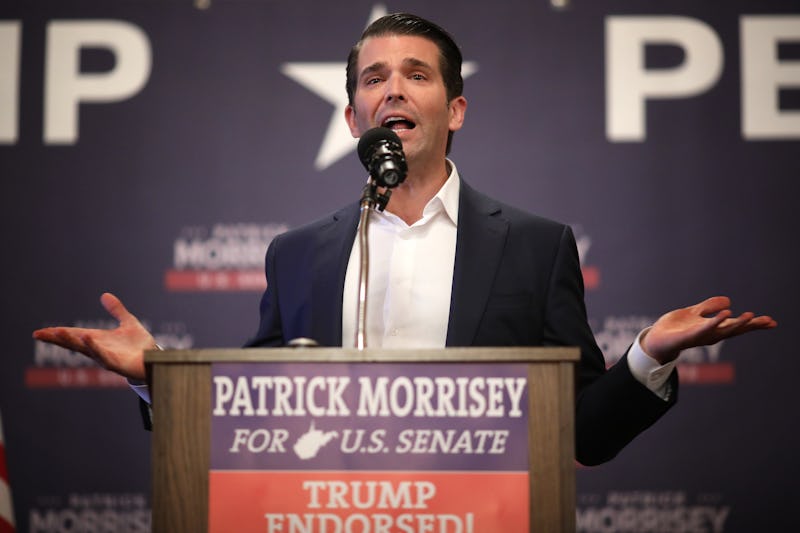 Win McNamee/Getty Images News/Getty Images
Donald Trump Jr. really tends to go all over the place with his posts on Instagram. There are the family-oriented posts of his kids, the posts in reaction to the news about President Donald Trump, the screenshot images of tweets — and then there are the pro-Trump memes. In a holiday twist on this last category, Trump Jr. shared a meme calling Trump an "angel" and a "star," with a photo of a Trump figurine as a Christmas tree topper.
"Couldn't decide between an angel or a star," the text of the meme reads. "So I picked both."
Along with the photo, Trump Jr. included the hashtags "triggered," "Christmas," "Christmas Tree," "star," and "angel." While the post garnered over 80,000 likes, the reactions to it covered quite a broad spectrum.
"That's a good one," one commenter wrote. "Love my president." Another went simply with "Amen!!"
On the other hand, Trump's detractors had a number of pointed comments to offer as well.
"Couldn't decide between collusion and conspiracy. So Mueller picked both," one wrote.
"U do realize u are totally mocking Christianity which your family claims to embrace," another wrote. "There is a reason people put a star or angel on the tree. Once again self service wins out over whats [sic] right & just with you all. Sad."
So far, this is only Trump Jr.'s second Instagram post directly related to Christmas, besides a video he posted of the national Christmas tree lighting. He hasn't posted anything about Melania Trump's White House Christmas decorations, which got far more attention on social media than the outdoor tree did — largely because of the hall of blood-red trees. While Melania's trees are certainly more visually striking, Trump Jr.'s meme does provide some food for thought.
After all, you can legitimately say that Donald Trump is a "star" of sorts. He had a reality TV show of his own, and he has a star on the Hollywood Walk of Fame — which has been vandalized several times since he entered the political sphere. Many would think that Trump does not, however, possess many of the qualities that one tends to think of in an angel.
Just for example, tabloids at the time documented the very public affair that ended his first marriage. During the run-up to the 2016 election, the Washington Post published a clip of audio from Access Hollywood, in which Trump bragged about an action that amounts to sexual assault (Trump has denied all of the numerous allegations of sexual harassment against him). His policies have also led to record numbers of children being kept in detention, even some who might have a family to go to, as Axios explained. According to a bombshell New York Times report, he benefitted — to the tune of hundreds of millions of dollars — from a massive tax evasion scheme that his father carried out, which is essentially theft from the government.
In short, when you see an angel at the top of a Christmas tree, these are probably not the sorts of actions that you would connect with it. However, Trump Jr. seems at least to have given many of his fans a laugh.