Trump & Merkel Kicked Off The G20 Summit With An Awkward Handshake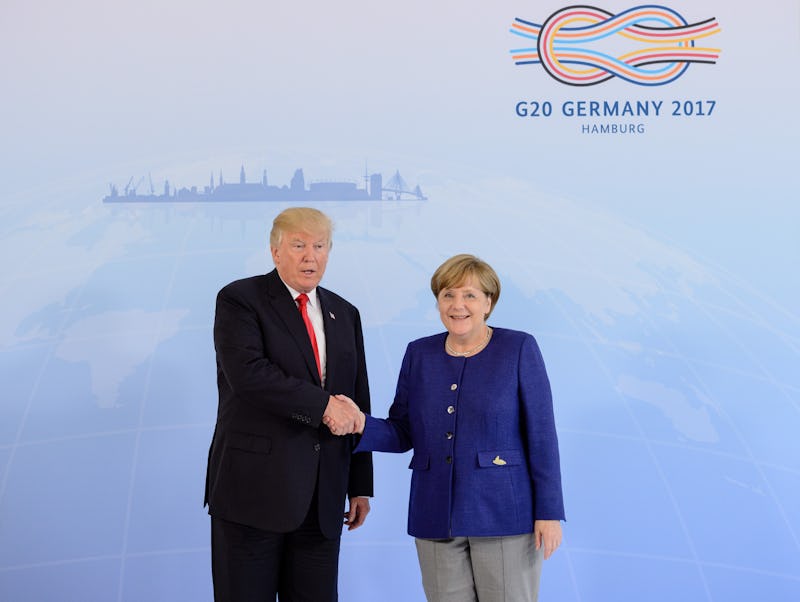 Pool/Getty Images News/Getty Images
German Chancellor Angela Merkel finally got the handshake PresidentTrump denied her in March. On Thursday, CNN released a video of Trump and Merkel shaking hands at the G20 summit in Hamburg. It was a moment that was probably scooped up with glee by internet archivists cataloging Trump's history of handshakes.
Although the two leaders have supposedly shaken hands on various occasions off-camera, their most famous handshake was the one that didn't happen. In a cringe-worthy moment captured on video, Trump snubbed Merkel at their first meeting in the Oval Office. Photographers wanted a handshake between the two leaders and Merkel turned to Trump, asking if he wanted to have a handshake. He did not respond and continued to not look at her, leaving the chancellor hanging in an awkward moment. The incident seemed more uncomfortable given the perception that Trump and Merkel don't seem too fond of each other.
Press Secretary Sean Spicer explained the embarrassing situation away by claiming the president simply hadn't heard her. Now, months later on the eve of the G20 summit, Trump made sure to reach for Merkel's hand in front of reporters when they met for a brief chat, both turning toward the camera as if to say, "Look at us, we're shaking hands!"
Merkel and Trump have established significant differences on several major issues, including on transatlantic trade and how to handle immigration.
The G20 summit takes place July 7 to 8 with participants from six continents. The agenda will cover the usual topics of global economics, international trade, and financial market regulation. The world leaders will also most likely discuss the 2030 Agenda for Sustainable Development. Since Trump moved to withdraw the United States from the Paris climate agreement, it's uncertain to what extent the U.S. will be involved. Other urgent topics could include the refugee crisis and counter-terrorism.
Prior to his appearance in Hamburg, Germany, Trump added another awkward handshake to his tally on Thursday, but this this time he was on the receiving end. When Trump greeted Polish President Andrzej Duda and the leader's wife, Agata Kornhauser-Duda, after giving a speech in Warsaw, the first lady of Poland breezed past Trump and his offered hand, passing him over for Melania Trump first before turning to him. The initial rejection did not appear intentional, but it turned out to be yet another handshake kerfuffle in the books — alongside his 19-second-long grip on Japanese Prime Minister Shinzo Abe and that time he was involved in a widely discussed "grab and yank" handshake with Prime Minister Justin Trudeau of Canada.