Trump Pledges $1 Million Of His Own Money To Hurricane Harvey Relief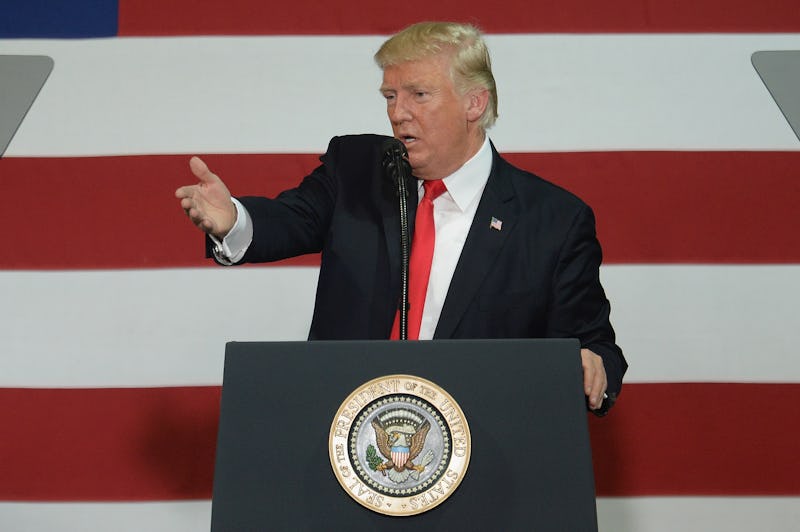 Michael B. Thomas/Getty Images News/Getty Images
Press Secretary Sarah Huckabee Sanders took a stand for the president on Thursday by pledging $1 million of Trump's own money to Hurricane Harvey disaster relief. Trump joins many media personalities that have put up their own cash — except for the fact that he hasn't actually donated yet. On Thursday, Trump had asked Huckabee Sanders to ask White House reporters for suggestions on where to give. (That's right — he asked the mainstream media for advice.)
To give you an idea of how generous $1 million is, the donation puts him on par with Miss Congeniality and Crash star Sandra Bullock. She is a longtime supporter of the Red Cross, and has donated after many recent American tragedies and natural disasters like 9/11 and Hurricane Katrina. Many corporations have promised between $1 million and $2 million too, with Verizon contributing $10 million and Walmart $20 million. The NFL's Houston Texans' J.J. Watt raised more than $10 million.
Trump didn't speak personally on the matter, but Huckabee Sanders told the press corps, "He'll pledge proudly $1 million of his own personal money to help the people of both Texas and Louisiana." When and to whom this money will be given remained undecided, presumably once she relays the reporters suggestions back to the president. Huckabee Sanders explained that the president thought the journalists would be the ones to ask given that they're reporting on relief efforts.
One thing to watch will be where the money comes from. In the past, Trump has used money from his foundation to make what seemed like personal contributions. In other words, he took the donations of others and then re-donated the dollars while taking the credit. During the election, Washington Post reporters couldn't find a single donation to charity made by the now president from his personal funds.
There's also the chance that he won't make the donation at all — unless the mainstream media follows up with their suggested charity to see that the check actually arrives. That's what happened in the wake of Hurricane Sandy. He pledged $1 million but then the money never came, with spokespeople for New Jersey Gov. Chris Christie making excuses for Trump.
Being president, he will be under more pressure to follow through, and he has notably donated his salary to federal agencies thus far, with his first paycheck sent to the National Park Service and the second to the Department of Education.
He's also generally been criticized for his efforts to reach out to those affected by the natural disaster, first by claiming he saw the devastation of the storm "first hand" when he hadn't, and then by holding a rally on GOP tax cuts in Missouri before the first stages of the relief effort in Texas have ended.