Donald Trump May Visit London At The Worst Time Imaginable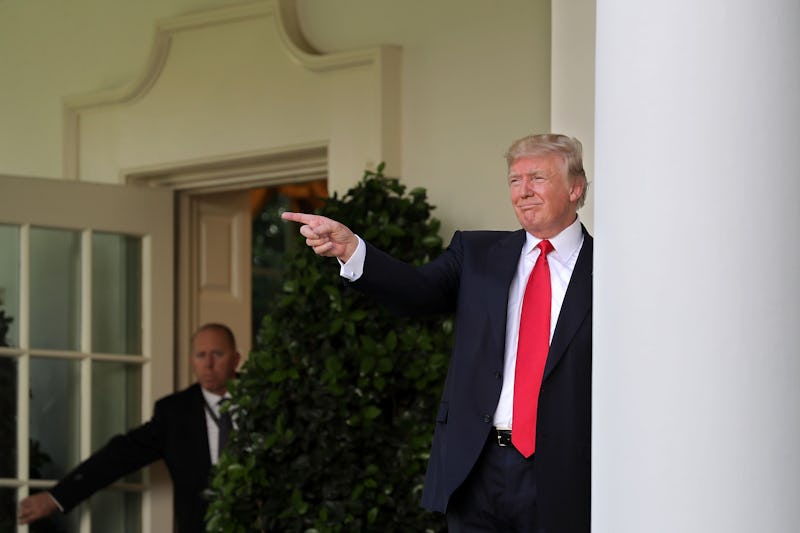 Chip Somodevilla/Getty Images News/Getty Images
The London terror attack Saturday has drawn sympathy from world leaders, but the president of the United States isn't one of them. Now, he might create additional problems for the people of the beleaguered city. Donald Trump might visit London in the wake of the attacks, but it would be pretty much the last thing that the people of London need right now.
According to Jon Karl of ABC News, Trump is reportedly considering a trip to London to show solidarity with the city and the victims of the attack. The attacks occurred on Saturday night around 10 p.m. local time on London Bridge and at Borough Market, popular tourist and pedestrian spots near the River Thames. Seven people were killed and dozens more were injured by three assailants who drove a van through a crowded street, then stabbed multiple victims at the market.
The people of London certainly need some solidarity from the rest of the world, but the problem with Trump's visit is that the U.K. has an exceptionally poor attitude toward him. The British Parliament debated whether to ban him from the country earlier in the year, and according to recent polling data, 50 percent of the country thinks Trump is dangerous. The last thing that the city needs right now is protests in the streets, like the people of Brussels held during Trump's visit last week for the NATO summit. The London police are already overstretched due to the increased police presence in the coming days, so having to deal with Trump protesters isn't going to make their job any easier. Trump's visit would probably cause more harm than good, which is exactly the opposite of solidarity.
Trump also criticized London mayor Sadiq Khan for his handling of the attack via Twitter, another thing that might not make him a very welcome guest in London next week. Trump essentially tried to encourage the people of London to stay afraid after the attack, even though they showed their intention to reject the fear and hatred that the attack meant to instill.
Trump doesn't need to visit London and realistically, most Londoners probably don't want him there either. This visit would be terrible timing, especially considering Trump hasn't made any visits to address the recent incidents of domestic terrorism in his own country. There are much better ways to show solidarity than by putting additional strain on people who have been through a traumatic incident, and if Trump really wants to show solidarity, he'll stay far away from London.