Trump Apparently Went Around Saying He Wished Javanka Would Just Go Back To New York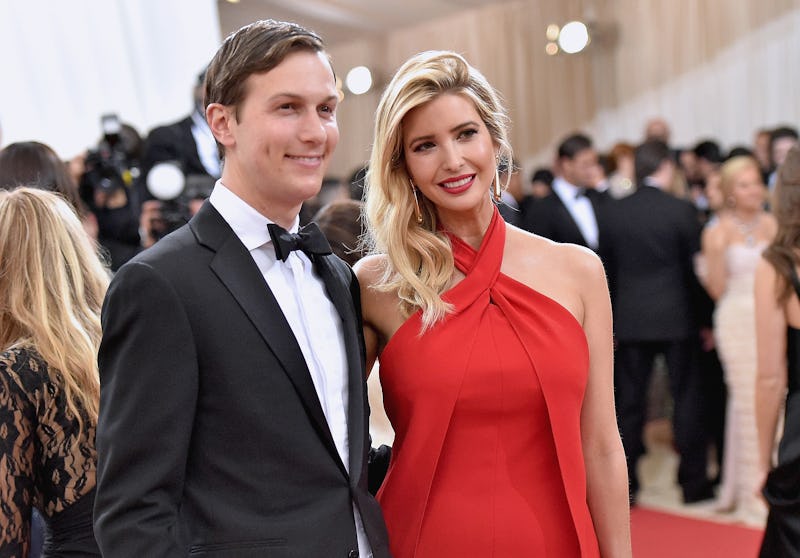 Mike Coppola/Getty Images Entertainment/Getty Images
A New York Times report Saturday explored how, despite criticism from both Democrats and Republicans, Ivanka Trump and Jared Kushner have remained — and will remain — in the White House as aides to President Trump. But that wasn't always the case. According to the report, Trump had told his chief of staff and friends at times that he wanted Ivanka and Jared to return to New York.
Things were tense in the White House as Trump's staff dwindled — even between the president, his daughter, and his son-in-law, at times, according to the Times report. Trump reportedly joked to a number of people that he "could have had Tom Brady" as a son-in-law, but he "got Jared instead." He also said "Jared hasn't been so good for me," on a few occasions, and told friends and chief of staff John F. Kelly that he wished Jared and Ivanka would go back to New York, the Times reported.
But the more Trump's staff shrank, the more Kushner and Ivanka stepped in as close advisors, with Kushner reportedly vowing to clear "out the Republican Party of lingering resistance" to Trump's administration, the Times reported. Kushner told the Times through a spokesperson: "I have greatly enjoyed working collaboratively with so many extraordinarily devoted and competent people, but those who have tried to undermine the president have found me to be an obstacle."
The couple has managed to lay low long enough to outlast their biggest critics, according to the Times, and it has landed them in the president's inner circle. Trump may have joked about them leaving, but that's clearly not how it is anymore. Axios reported on Thursday that Kushner and Ivanka's friends "have the strong impression" that the couple is staying in Washington D.C. for as long as President Trump does.
But the Times report and rumors about the couples plans to stay in Washington weren't the first indications of just how committed they are to their roles — however difficult they might be. Both reports come a few days after Ivanka's Tuesday announcement that she would be shutting down her clothing brand. She wrote in a statement, according to Adweek:
After 17 months in Washington, I do not know when or if I will ever return to the business, but I do know that my focus for the foreseeable future will be the work I am doing here in Washington, so making this decision now is the only fair outcome for my team and partners.
The Times report does appear to successfully detail just where Ivanka and Kushner stand in the White House — take this snippet about how the couple use their power:
Both husband and wife, like Mr. Trump, are said to hang on to grudges, but Mr. Kushner is far more transactional than his wife. Like his father-in-law, he appears to convince himself that fights did not happen if someone has become useful to him.
The report also said that the couple see Stephen Miller, a Trump supporter with alleged ties to white supremacist organizations, "as a walking policy encyclopedia."
But many Twitter users have noted that it's unclear what the couple did to "grind down their critics" aside from completely ignoring them.
Others say reports about Kushner and Ivanka, when they're not about news that the couple is involved in, normalizes their roles and their actions in the Trump administration's policy decisions:
Regardless, the report revealed fascinating rumors about the couple's role in the White House, which appears to be sticking — for now.