Trump's Thoughts On Bernie Sanders' 2020 Campaign Will Surprise You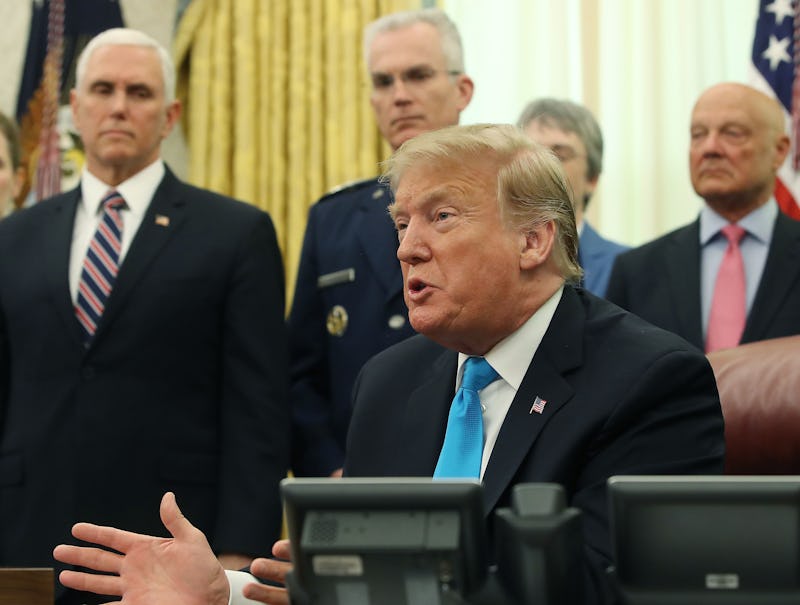 Mark Wilson/Getty Images News/Getty Images
The president's response to Vermont's junior senator joining the 2020 presidential race might surprise you — he was mostly complimentary. Speaking with reporters in the Oval Office, President Donald Trump said he likes Bernie Sanders because of their similar opinions on trade, but added that the independent senator "missed his time" to reach the White House.
Asked for his reaction to Sanders' announcement on Tuesday, Trump told reporters, "Personally I think he missed his time, but I like Bernie because he is one person that, you know, on trade he sort of would agree on trade."
Trump didn't go so far as to endorse his possible competitor, though. "I'm being very tough on trade, he was tough on trade. The problem is he doesn't know what to do about it," Trump continued. "We're doing something very spectacular on trade. But I wish Bernie well. It will be interesting to see how he does."
Working in an attack on his 2016 opponent — and perhaps fueling the ongoing disagreement among Democrats — Trump criticized the Democrats' primary process. "What happened to Bernie maybe was not so nice," Trump said about the 2016 race. "He ran great four years ago and he was not treated with respect by Clinton and that was too bad. I thought what happened to Bernie Sanders four years ago was quite sad as it pertains to our country."
In an email to supporters Tuesday morning, Sanders painted this year's run as a continuation of the 2016 campaign. "Together, you and I and our 2016 campaign began the political revolution," he wrote. "Now, it is time to complete that revolution and implement the vision that we fought for."
Asked how the 2020 election would be different on CBS Tuesday morning, Sanders said, "We're gonna win." He also didn't pull any punches with Trump, who he called a "liar" — and more.
"We have a president who is a racist, who is a sexist, who is a xenophobe, who is doing what no president in our lifetimes has come close to do doing, and that is trying to divide us up," Sanders told CBS This Morning co-host John Dickerson.
The Trump campaign's national press secretary, Kayleigh McEnany, was less friendly in responding to the news. "Bernie Sanders has already won the debate in the Democrat primary, because every candidate is embracing his brand of socialism," McEnany said in a statement posted to Twitter. "But the American people will reject an agenda of sky-high tax rates, government-run health care and coddling dictators like those in Venezuela. Only President Trump will keep America free, prosperous and safe."
Trump doesn't seem to be worried about the race — despite the fact that his team is getting an early start, running a more traditional campaign, and preparing for a possible GOP challenger. "You've got a lot of people running but only one person's going to win. I hope you know who that person is," Trump told reporters on Tuesday.
If Sanders wins the Democratic nomination, however, the congeniality might not last.