Trump Threatened To Hold Kavanaugh's Accusers "Liable" For Coming Forward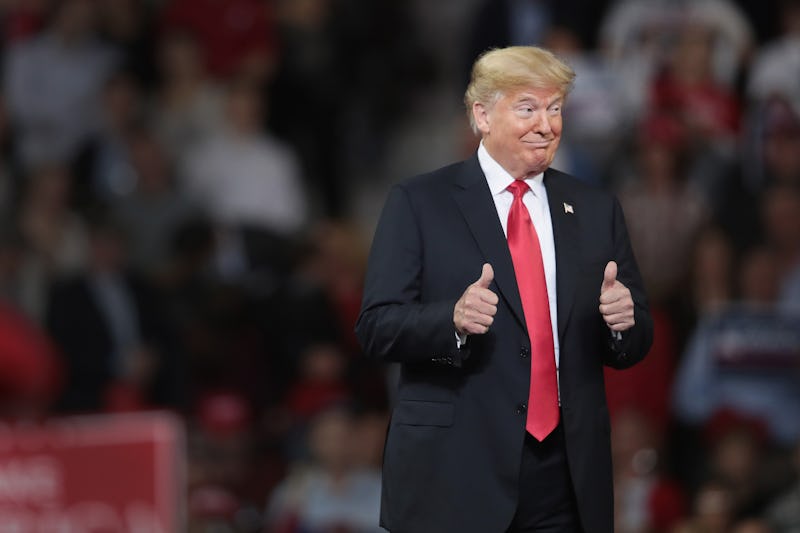 Scott Olson/Getty Images News/Getty Images
In celebrating Brett Kavanaugh's confirmation to the Supreme Court, President Donald Trump said we should penalize those behind "false" Kavanaugh allegations. In an interview on Fox News late Saturday, President Trump said he believed that those who had "made up" stories and "false" statements about Kavanaugh during his confirmation hearings should be held legally responsible.
"I'd love to see our liable laws get toughened up so you could take people and sue them," Trump told Fox News' Jeanine Pirro when asked if the people who'd "promoted falsehoods" about Kavanaugh should face consequences.
"I think they should be held liable," Trump went on to say. "I would say they should be held to the highest standard. You can't go around, and whether it's making up stories or making false statements about such an important position, you can't do that. You could destroy somebody's life."
The president claimed Kavanaugh's confirmation had been marred by the "many, many false things that were said about a very fine man" and "which could have destroyed his family." He went on to argue that Kavanaugh had "suffered" because of what the president called the "false statements made about him [and] things that never happened." Later in the interview, the president went so far as to call all of the allegations levied against Kavanaugh "fabricated stories" with "no bearing in truth."
But according to President Trump, things came together in the end "and people realized it was false accusations, false statements." Kavanaugh was confirmed to a lifetime appointment on the Supreme Court in a 50-48 Senate vote on Saturday following a weeks-long divisive and bitter political battle. He was officially sworn in as the court's 114th justice shortly after the Senate's vote.
"It was really something very interesting and very actually nice to see because he suffered," Trump told Pirro.
In her question on whether or not Kavanaugh's accusers should face consequences, Pirro specifically named Michael Avenatti — who represents not only Stormy Daniels, the adult film star alleged to have been paid to keep quiet about an alleged affair she had with Trump decades ago, but also Julie Swetnick, the third woman to accuse Kavanaugh of sexual misconduct. Both Trump and Kavanaugh have denied these allegations.
"Well, he made false accusations about me on another matter," Trump said of Avenatti. "Totally false, it's a joke. It's just a disgrace that they're able to do it. But he made the same thing — totally false statements."
Avenatti responded to Trump's comments on Twitter, urging the president to name the false accusations he claimed he'd made. "You again claimed tonight that I have made false accusations against you," Avenatti tweeted late Saturday. "Name them! Those felonies that [Michael] Cohen pled guilty to? The allegations about you having sex with my client with a 4 mo old at home?"
But the president appeared not to hear and Avenatti continued to wait. "I'm still waiting for you to tell me what 'false accusations' I made against you," he tweeted to Trump on Sunday. "Be honest for once — there are none and you don't have the guts to engage with me directly. You and your advisors know that you are not smart or tough enough to go the distance."
If you or someone you know has been sexually assaulted, call the National Sexual Assault Telephone Hotline at 800-656-HOPE (4673) or visit online.rainn.org.