Trump Said He "Didn't Know" Matt Whitaker Before Appointing Him Acting Attorney General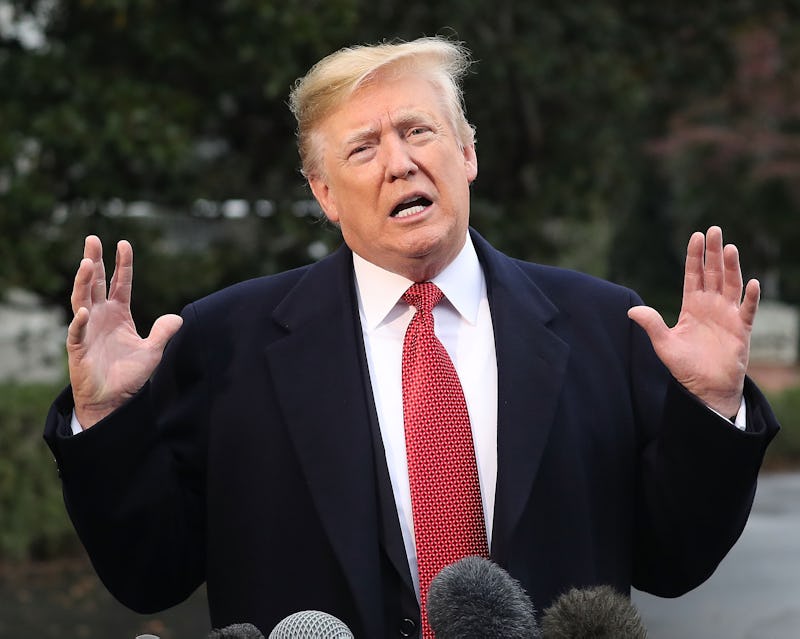 Mark Wilson/Getty Images News/Getty Images
In a bizarre twist fitting of the current White House, President Donald Trump denied knowing Matt Whitaker, Jeff Sessions' replacement for Attorney General, on Friday to reporters before he left for Paris. "Matt Whitaker worked for Jeff Sessions, and he was always extremely highly thought of, and he still is, but I didn't know Matt Whitaker," Trump told reporters.
To state what might be obvious: President Trump does know Whitaker, and Whitaker has been publicly critical of the special counsel investigation into Russia and Trump's campaign. Whitaker wrote an op-ed for CNN on how he believed special counsel Robert Mueller overstepped the scope of his mandate in August 2017.
"I think fundamentally this investigation by Bob Mueller needs to be limited," Whitaker told Fox News' Sean Hannity in May 2017.
Bustle has reached out to the White House for comment on Trump's relationship with Whitaker.
Further, CBS News reported that Whitaker was frequently spotted in the Oval Office. When CNN's Abby Phillips asked Trump a follow-up question on Friday regarding whether Whitaker would rein in the special counsel investigation into Russia that Sessions had recused himself from, Trump dismissed the reporter. "What a stupid question that is," Trump said, according to video of the exchange. "What a stupid question."
Whitaker has even come up during one of Trump's many call-in interviews with Fox & Friends. On Oct. 11, Fox & Friends host Steve Doocy asked Trump about a report from the Washington Post regarding a conversation between Trump and Whitaker about replacing Sessions. At the time, Whitaker was employed as Sessions' chief of staff.
The president then replied, "I can tell you Matt Whitaker's a great guy. I mean, I know Matt Whitaker, but I never talk about conversations I had." (Watch the exchange at 34:50.)
The move to appoint Whitaker is not without criticism. Notably, Senate Minority Leader Chuck Schumer sent a letter to President Trump on Friday that suggested Whitaker's appointment might be unconstitutional. The position of attorney general must be confirmed by the U.S. Senate; Sessions was confirmed 52-47 in February 2017, according to NPR.
"I am not aware of any precedent for appointment of an official who has not been confirmed by the Senate to serve as acting attorney general," Schumer wrote in the letter.
The criticism spread to ordinary citizens as well. MoveOn.org organization more than 900 rallies across the country to denounce Whitaker's comments about the special counsel investigation and to "Protect Mueller."
Eighteen states' attorneys general signed a letter in support of the Mueller investigation autonomy, and asked Whitaker to recuse himself from overseeing the investigation in the same manner that Sessions did. "You must be aware that your comments criticizing Mr. Mueller's investigation have been widely circulated. At various opportunities—in print, on television, and through social media— you have suggested cutting the Special Counsel's budget or limiting his authority to follow lines of inquiry," the letter read. It's signed by attorneys general across the country, from Hawaii to New York.
It's unclear if Whitaker will be stepping down from overseeing the Russia probe as Acting Attorney General, and it's also unclear if Whitaker will be able to stay in the position at all.