Trump Tweeted That Health Care Needs "More Dollars" Contradicting His Budget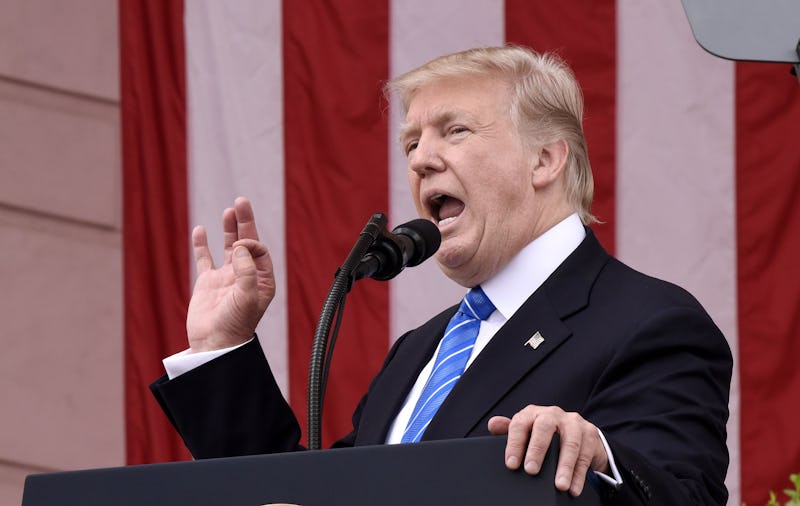 Pool/Getty Images News/Getty Images
President Donald Trump has been known to pull 180s before. His initial rhetoric on Syria, Russia, and, to a certain extent, NATO, have all been reversed or at least highly altered after taking office. Now there's a new seemingly contradictory statement out on one of the biggest domestic priorities that the White House has, healthcare. Trump tweeted that health care needs "more dollars," but he's cutting spending on health care left and right. Not only does the GOP's plan to repeal and replace Obamacare cut $250 billion, but Trump's proposed budget cuts an additional $610 billion from Medicaid.
Trump tweeted Monday, "I suggest that we add more dollars to Healthcare and make it the best anywhere. ObamaCare is dead — the Republicans will do much better!" This makes no sense on so many levels. The most obvious is that the current bill put forward by Congressional Republicans contradicts this.
Some 23 million Americans would lose coverage if it were to pass in its current version because there wouldn't be enough money in the plan to cover them; some would lose subsidized private insurance, while others would be locked out of Medicaid. The additional cuts in the program could leave it with a spending decrease ranging between a quarter to 45 percent, according to The New York Times.
So where is this about face coming from?
Maybe he's pivoting back to what he said during the campaign. He tweeted during the primary that he was "the first & only potential GOP candidate to state there will be no cuts to Social Security, Medicare & Medicaid. Huckabee copied me." He also kept it up for his 60 Minutes interview in January when he promised "insurance for everybody."
Maybe he was impressed with socialized medicine that he saw in countries on his first foreign tour. In another recent odd message on health care, he joined Australian Prime Minister Malcolm Turnbull for a press conference and praised their socialized system. "It's going to be fantastic health care," Trump said about the GOP plan. "I shouldn't say this to our great gentleman and my friend from Australia because you have better health care than we do."
But that time, the White House claimed he didn't mean it: "I think he was simply being complimentary of the prime minister and I don't think it was anything more than that," deputy press secretary Sarah Huckabee Sanders said in response.
Perhaps we'll see the administration walk back this tweet too. But for once it would be a lot better for everyday Americans if Trump followed through on his Twitter thoughts.