Trump Says He'll "Revisit" DACA Hours After His Administration Killed It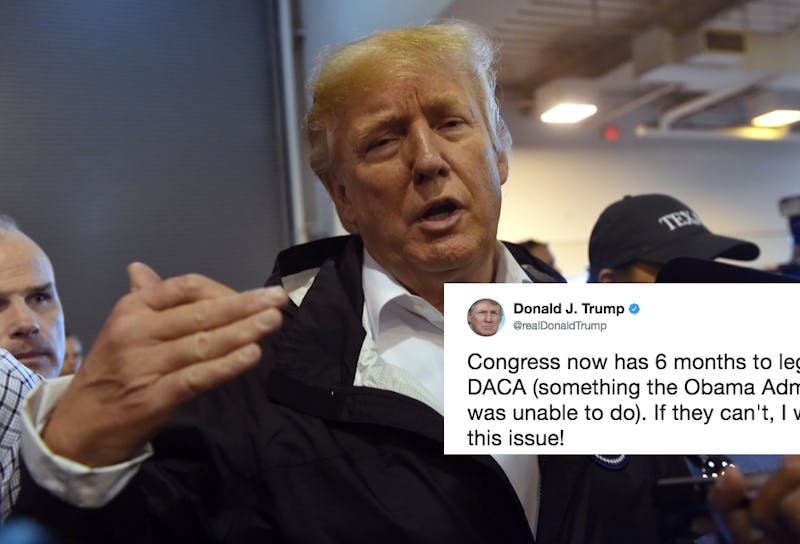 NICHOLAS KAMM/AFP/Getty Images
On Tuesday, Attorney General Jeff Sessions announced that the Trump Administration has decided to end the Deferred Action for Childhood Arrivals (DACA) program, which currently protects roughly 800,000 young undocumented immigrants from deportation. President Trump's relationship with DACA has been complicated, to say the least, and he has repeatedly fluctuated between proclaiming his "love" for DACA recipients and vowing to end the program entirely. Things became a little more complicated on Wednesday evening when Trump vowed to "revisit" DACA in six months, just hours after his office made the public announcement to get rid of it.
"Congress now has 6 months to legalize DACA (something the Obama Administration was unable to do)," Trump tweeted. "If they can't, I will revisit this issue!"
Trump did not elaborate on exactly how he would "revisit" DACA, but his tweet could indicate that the action (or inaction) of Congress on immigration reform in the next six months may not be the final answer on the fate of the thousands of undocumented young people hoping to stay in the United States.
Congressional leaders returned to work on Tuesday, and if they don't pass legislation that legalizes DACA in the next six months, the program, which was created through an Obama-era executive order, will officially be terminated. At least, that's what Sessions said in a press conference on Tuesday. Based on Trump's tweet, it's now unclear exactly what will happen to DACA and the people who depend on it.
Trump has made wide-ranging comments about DACA in the past. During the presidential campaign, he vowed to "immediately terminate" the program, which he called an "illegal executive amnesty." Yet just a few months later, once elected to office, Trump stated in an ABC interview that Dreamers "shouldn't be very worried." He also said as recently as Tuesday that he has "a great heart" and "great love" for Dreamers.
Some have suggested that the President really is morally and emotionally conflicted on what exactly he wants to do with DACA, torn between fulfilling campaign promises and showing compassion for young immigrants. CNN described the White House DACA deliberations as a "tug-of-war" in which Sessions, a longtime opponent of the policy, ultimately won. In fact, CNN reports, the reason that Sessions made the official White House announcement is that Trump was attempting to distance himself from the decision, instead putting the burden and blame for reform on Sessions and Congress.
This strategy is unlikely to be effective, as any policy lawmakers outline will ultimately have to be approved by the President. On Tuesday, Florida Senator Marco Rubio called on the President to more explicitly state whether or not he supports DACA. "It is important that the White House clearly outline what kind of legislation the president is willing to sign," Rubio said.
Trump's vague, confusing, and at times contradictory statements on DACA have done little to give Congress, or the public, insight into what his views on the policy actually are. Unfortunately, this means that thousands of undocumented citizens will continue to wait in limbo to hear their fate, especially if Trump decides to reverse course and alter his position once again.