Trump Said He's "Protecting Everybody" When Asked About His Reported Anti-Trans Memo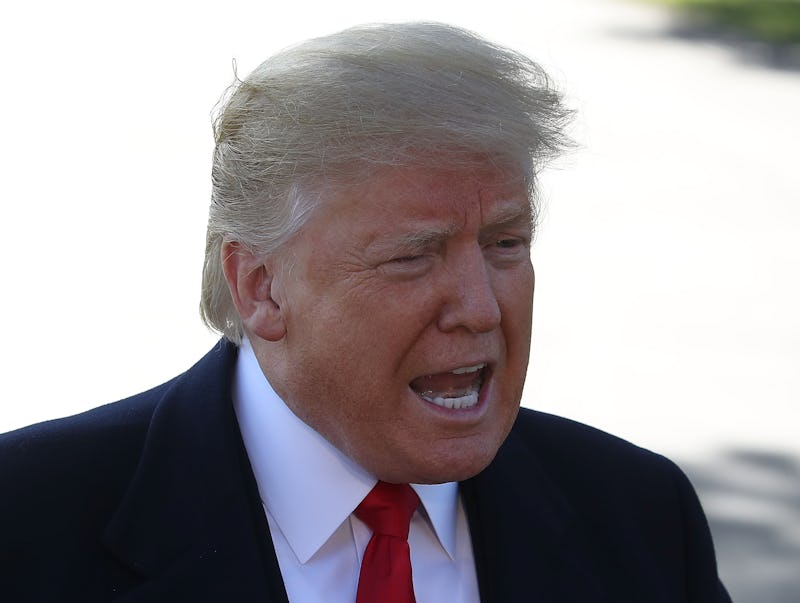 Mark Wilson/Getty Images News/Getty Images
President Donald Trump responded to a piece in Sunday's New York Times about his administration's reported work to legally redefine sex and exclude transgender people from federal non-discrimination law. Trump said his transgender rights plans are about "protecting everybody" and appeared to imply he was protecting the country from trans people.
Trump was asked about the reported Health and Human Services draft memo on the White House lawn on Monday amid protests. "We have a lot of different concepts right now," Trump told reporters. "They have a lot of different things happening with respect to transgender right now — you know that as well as I do — and we're looking at it very seriously."
The reported draft memo would redefine sex, with regard to Title IX legislation on sex discrimination in schools, as a binary male or female designation based on genitalia at birth or genetic testing. The current Obama-era policy found the law covered discrimination on the basis of gender identity and expression — a protection the reported draft memo would preclude.
Asked by a reporter about his promises while on the campaign trail to protect the LGBTQ community, Trump said, "I'm protecting everybody. You know what I'm doing, I'm protecting everybody. I want to protect our country." Bustle has reached out to the White House for comment on what the president meant by this.
Trans activists have interpreted the policy change as a direct attack on their community using misinformation and bigotry while ignoring "law, medicine, and basic human decency." Mara Keisling, executive director of the National Center for Transgender Equality, the country's preeminent advocacy organization for trans rights, responded to the Times report in a statement. She said:
This administration is willing to disregard the established medical and legal view of our rights and ourselves to solidify an archaic, dogmatic, and frightening view of the world. This transparent political attack will not succeed administratively, legally, or morally.
Activists from the National Center for Transgender Equality and other LGBTQ organizations gathered in front of the White House on Monday to protest the change.
D.C.-based trans advocate Ruby Corado told the crowd that her humanity is not based on a definition or genetic testing. "Before I came out into the world and demanded basic human rights, I accepted myself and I gave me permission to exist," Corado said at the protest. "No one can take away my dignity. No one can take away my identity."
There are an estimated 1.4 million trans people that could be affected by the policy change, which would ignore current identity documents and refer solely to birth certificates. "The sex listed on a person's birth certificate, as originally issued, shall constitute definitive proof of a person's sex unless rebutted by reliable genetic evidence," the memo reportedly reads.
In addition to trans people, intersex babies would also be excluded from non-discrimination law, given that they often have ambiguous genitalia or have sexual organs that do not match their chromosomes — as shown by genetic testing. Some jurisdictions have passed legislation to start issuing non-binary birth certificates to intersex babies including California. They display an "X" instead of the binary male or female. New York City passed such a law just last month.
Protests have also occurred online with activists and allies using the hashtag #WontBeErased. If you would like to give money to the trans community in response to this move by the Trump administration, here are 20 trans organizations that you can donate to.