Trump Says Melania's Life Isn't Easy — But Not For The Reason You'd Think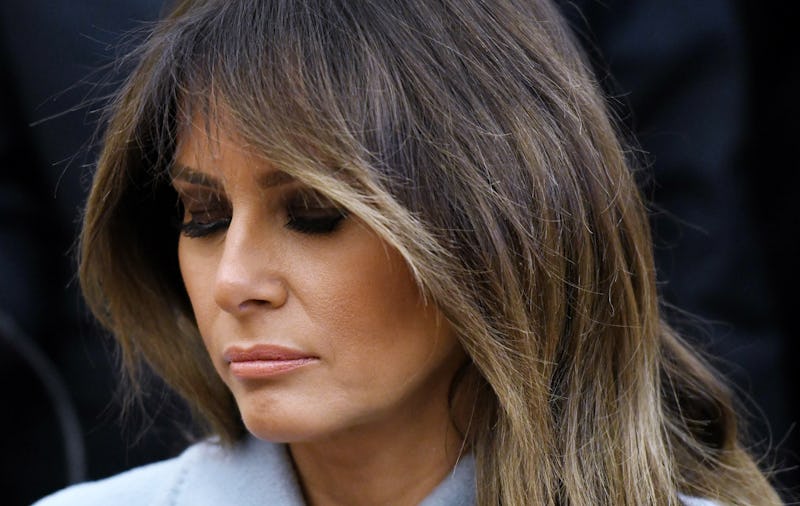 Pool/Getty Images News/Getty Images
In a campaign rally speech that's since garnered a lot of attention, President Trump agreed First Lady Melania Trump's life is "not so easy." But that admission is not for the reason that most people might think. Instead of acknowledging his alleged affair with former adult film star Stormy Daniels, the president went on to talk about his wife's involvement in working to fight the opioid crisis. He's appointed her to a "blue ribbon committee" meant to deal with the epidemic.
"Great first lady. She's great," Trump told the crowd at an event for Pennsylvania Republican congressional candidate Rick Saccone on Saturday. "You think her life is so easy, folks? Not so easy." That's when he launched into talking about her difficult role combatting the opioid crisis.
We put Melania and other people on this blue ribbon committee. Do you think the drug dealers that kill thousands of people during their lifetime, do you think they care who is on a blue ribbon committee? The only way to solve the drug problem is through toughness. When you catch a drug dealer, you've got to put him away for a long time.
Melania first spoke out about the administration's efforts to address the opioid epidemic at a White House summit earlier this month. "I am so proud of the work that this administration has already done to combat this epidemic," she said. "We all know there is still much work to be done, which is why we are all here today."
At the rally on Saturday, the president praised countries like China and Singapore, which have "zero-tolerance policies" when it comes to drugs. There they sentence drug dealers to execution, a model the president said he'd consider implementing here in the United States.
Many people were surprised to hear Trump say Melania's life is "not so easy" because she's been appointed to a blue ribbon committee. A lot of viewers considered the "elephant in the room" to be the accusations concerning Daniels, whose real name is Stephanie Clifford. According to a report by The Wall Street Journal, Trump was accused of having an affair with Clifford, which began a year after he married Melania and a few months after the birth of their son Barron. His lawyer Michael Cohen later arranged a payment to Clifford for $130,000, which she claims was for her silence. Trump has denied the allegations of an extramarital affair.
Since the story broke, people have speculated that Melania is avoiding Trump because of it. New York Times columnist Maureen Dowd wrote that "a wintry Melania canceled her plan to accompany her husband to Davos" for the World Economic Forum after learning about the allegations. However, a recent column by fellow Times columnist Charles Blow asserted that Melania wasn't shocked by these accusations concerning her husband.
"Melania knew exactly the kind of man she was getting," Blow wrote, citing the fact that Trump first asked for Melania's number while on a date with another woman and in the process of getting a divorce from Marla Maples. At the time that they met, according to a profile by GQ, Melania "knew of Trump's reputation."
Melania has publicly forgiven her husband before for alluding to cheating on her in a tape from Access Hollywood, in which Trump said he grabs women "by the pussy."
At the time, Melania dismissed his description of sexual assault as "boy talk," but admitted that she was surprised by his comments — "I don't know that person that would talk that way," she told CNN's Anderson Cooper, "and that he would say that kind of stuff in private."