Trump Says "This Country Doesn't Want" Immigrants Coming From The Southern Border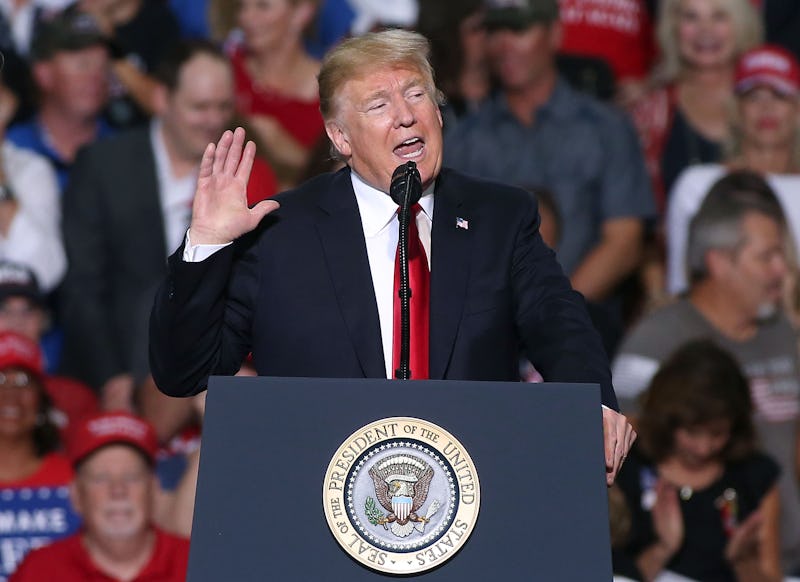 Ralph Freso/Getty Images News/Getty Images
In the wake of news that a caravan of immigrants are traveling from Central America toward Mexico, President Donald Trump said the United States "doesn't want" thousand of immigrants during a rally in Arizona on Friday. NPR reported that hundred of immigrants arrived in towns near Mexico's southern border on Thursday, and organizers said they're expecting thousands more to arrive.
Trump said he does not want to see more immigrants come to the United States. And, he claimed, neither do Americans. "Right now as you know, they're fighting some bad people," Trump told the crowd in Mesa, according to The Washington Post.
"There are some bad people in that group. This country doesn't want them," Trump added, according to The Post.
Trump threatened to close the U.S.-Mexico border in order to stop the caravan of people from entering the United States, according to NPR. On Thursday, Trump tweeted that if Mexico can't or wouldn't stop the caravan, "I will call up the U.S. Military and CLOSE OUR SOUTHERN BORDER!"
USA Today reported that the president does have authority to close the borders and points of entry. In the wake of the terrorist attacks on 9/11, then-President George W. Bush "partially closed" the southern border and mandated vehicle inspections for all incoming traffic. USA Today reported that Ronald Reagan "temporarily closed ports of entry" in 1985 after a DEA agent was killed in Mexico.
Trump's Friday speech was part of his effort to support Rep. Martha McSally, a Republican running to win Jeff Flake's Senate seat. McSally is a former Air Force combat pilot who criticized Trump in 2016.
McSally has since became an ally of the president. On Friday, Trump praised McSally. "She's tough, and she's brave, and she can fly an airplane better than anybody," Trump said at the rally, according to The Washington Post.
Trump said Arizona deserved McSally. "You deserve a senator who loves this state and will never let you down," he said, according to KTAR.
Trump also criticized McSally's Democratic opponent, Rep. Kyrsten Sinema. He called Sinema "a far-left extremist" and said Sinema "is being protected by the fake news back there," according to The Post.
While he was on-site to stump for McSally and other Republican candidates, Trump still found time to criticize his potential Democratic opponents for the 2020 presidential election. He made fun of Massachusetts Sen. Elizabeth Warren and her recent unveiling of Native heritage. "We can no longer say Pocahontas because she has no Indian," Trump said of Warren, according to KTAR. "I can't use the word Pocahontas anymore. I have more Indian blood than she has and I have none."
According to KTAR, chants of "Build the wall!" also broke out at the rally. Before at least one such chanting, Trump claimed that Democrats are advocating for "wide open" borders for "deadly drugs and ruthless gangs" to enter America. He told the rally attendants: "Democrats want to throw your borders wide open to deadly drugs and ruthless gangs. Come on in everyone!"
Trump also said he wants to build a wall along the U.S.-Mexico border in one year.