Trump Tweeted "Thanks" At Omarosa And The Drama Is Good Enough For Reality TV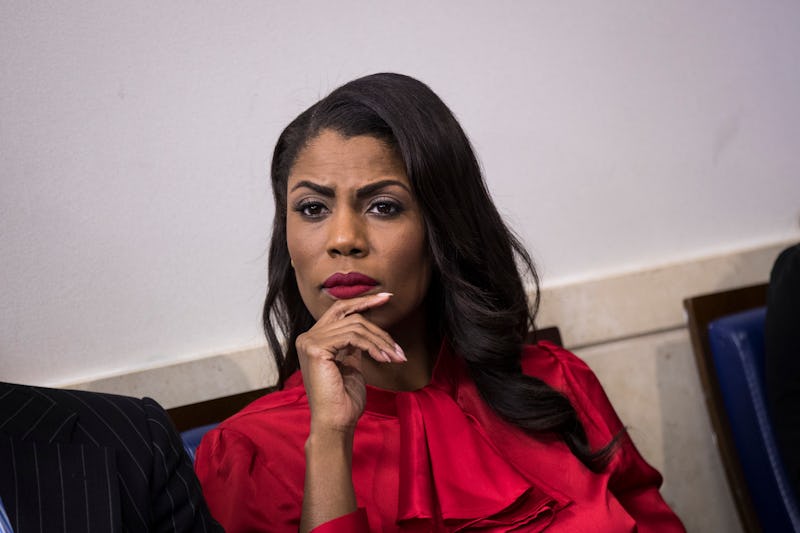 Drew Angerer/Getty Images News/Getty Images
Less than a year after her abrupt departure from the White House, Omarosa Manigault Newman released a tell-all book this week containing revelations about the Trump administration. But significant media attention has been focused not only on her book, but also on the audio recordings that Manigault Newman secretly compiled during her time as a top Trump aide. In response to these tapes, which have implicated Donald Trump, John Kelly, and other administration officials, Trump fired back at Omarosa Manigault Newman by retweeting a compilation of the "kind words" she has said about him in the past.
The Republican National Committee's official Twitter account posted a video compilation on Thursday of various interviews in which Manigault Newman praised Trump and described him as her friend. Trump then retweeted this compilation, thanking his former staffer for "the kind words."
"Guess she forgot about these tapes..." read the original tweet from the GOP. In the compilation, Manigault Newman talks about how happy she was when Trump announced his candidacy for the presidency, describes him as a "trailblazer on women's issues," reiterates that she "stands by him," predicts that "this president is going to be incredible for this country," and insists that Trump was "the right choice for America."
The RNC compilation dropped just hours after Manigault Newman released her latest recording, in which Lara Trump — a Trump reelection campaign aide as well as the president's daughter-in-law — appears to offer Manigault Newman a $15,000-a-month job after her departure from the White House. In the recording, Lara can be heard telling Manigault Newman that she would need to keep "everything, everybody positive" if she were to join Trump's reelection campaign, per The Hill.
According to NBC News, the tape also appears to feature Lara suggesting that Manigault Newman had some concerning revelations "in the back pocket to pull out" — a remark that Manigault Newman described as proof that the Trump team wanted "to buy my silence, to censor me, and to pay me off" in an interview with MSNBC's Craig Melvin. Manigault Newman also suggested that the $180,000 annual salary Lara was offering was actually "hush money."
Trump's retweet on Thursday was not the first time he fired back at Omarosa. Earlier this week, he referred to Omarosa as "that dog" in a tweet, and lauded Kelly for "quickly firing" her. These remarks were quickly criticized as racist and sexist, but also hypocritical given another recording Manigault Newman released in which Trump tells her that "I don't love you leaving at all." In fact, Trump can be heard saying in the recording that he didn't even know Omarosa had been asked to leave the White House.
Manigault Newman has also claimed that she has heard a recording in which Trump said the N-word, and though the president has denied the existence of such a tape, his staffers are reportedly "terrified" about what else Manigault Newman has up her sleeve. According to Politico, Trump's staffers aren't just worried about how to handle the public relations crisis that the tapes have created, but are also concerned that they will be the next people implicated.