Trump Touts Sean Spicer's "Great Television Ratings" After His Resignation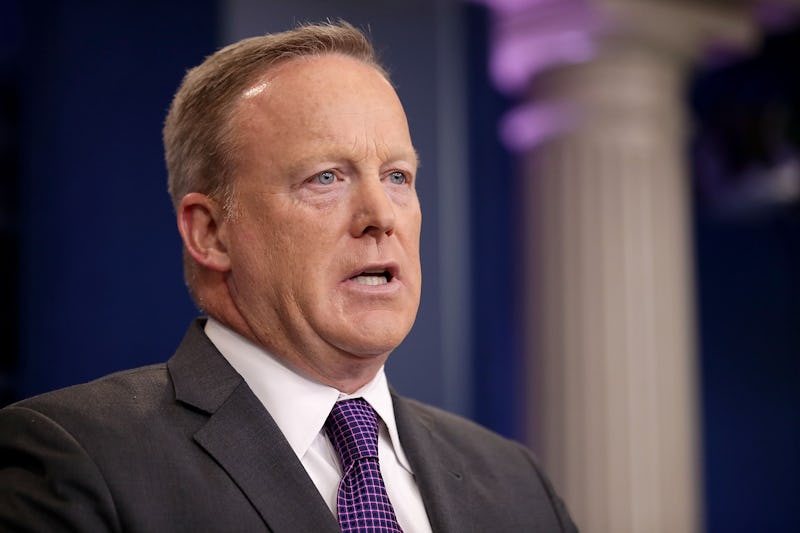 Chip Somodevilla/Getty Images News/Getty Images
Shortly after the abrupt resignation of White House Press Secretary Sean Spicer, President Trump praised Spicer for his 'great television ratings' and wished him "continued success" in his professional life. Trump made the remarks in a statement, which incoming Press Secretary Sarah Huckabee Sanders read aloud at Friday's press briefing.
"I am grateful for Sean's work on behalf of my administration and the American people," Trump said in his statement. "I wish him continued success as he moves on to pursue new opportunities. Just look at his great television ratings."
Spicer resigned from his post on Friday, the same day Trump announced that Anthony Scaramucci will serve as the new White House communications director. According to the Washington Post, the appointment of Scaramucci angered both Spicer and White House Chief of Staff Reince Preibus, who worked with Spicer at the Republican National Committee prior to Trump's election. A source told Politico that Spicer didn't think Scaramucci, who's worked primarily in finance, was capable of leading the White House's communications shop.
In a conversation with the Associated Press, Spicer said it was an "honored" and a "privilege" to have served under Trump, but that the White House "could benefit from a clean slate."
According to the New York Times, Trump offered Spicer the option of remaining at the White House but in a position that would be subordinate to Scaramucci, an offer Spicer flatly rejected. CNN reporter Jim Acosta reported that Trump had expected Spicer to stay with the White House in some capacity.
Spicer served as press secretary for six turbulent months, and his tenure was marked by controversy and, at times, derision. His bombastic public persona was regularly parodied on Saturday Night Live, a fact that reportedly bothered Trump. While discussing the Syrian civil war in April, Spicer was criticized for incorrectly claiming that "even Hitler didn't sink to using chemical weapons" during World War II, a comment for which he later apologized. In May, when Trump sent a mysterious, seemingly half-finished tweet ending with the word "covfefe," Spicer claimed that it was intentional, and that Trump "the president and a small group of people know exactly what he meant."
In addition to serving as press secretary, Spicer was also reportedly the de facto leader of the White House's communications shop, following the departure of Mike Dubke from the post in May. Shortly after Spicer's resignation, Scaramucci said that that he hopes the former press secretary "goes on to make a tremendous amount of money."