How Trump Reportedly Personally Tried To Stop Stormy Daniels From Talking About Him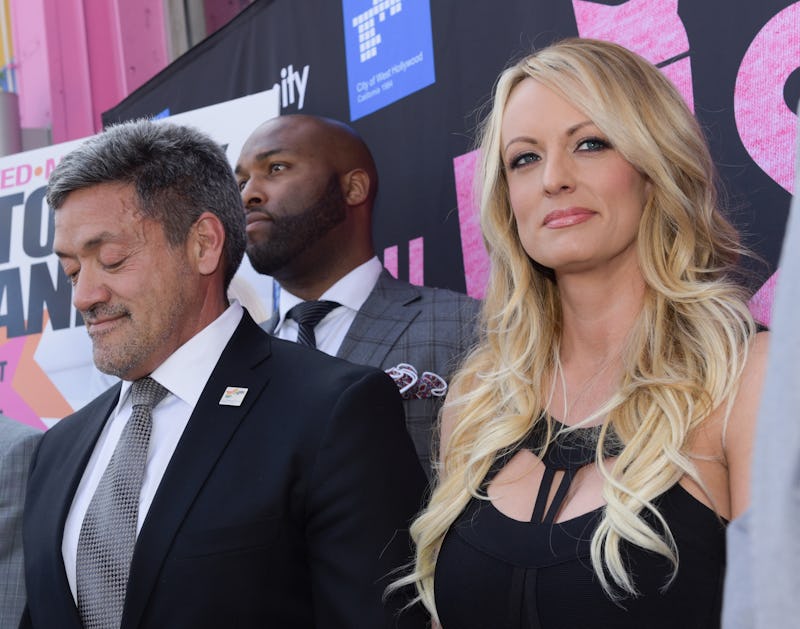 Tara Ziemba/Getty Images Entertainment/Getty Images
From the very beginning, President Donald Trump's line on what really happened with adult film tycoon Stormy Daniels has been constantly changing — and with that, the news media has been digging further and further into it. Now, The Wall Street Journal has uncovered a new piece of the puzzle. According to their new reporting, Trump tried to stop Stormy Daniels from speaking out as recently as February 2018.
Daniels' first big TV interview came in March 2018, when she spoke to CNN's Anderson Cooper on 60 Minutes. Joe Palazzolo and Michael Rothfeld at The Wall Street Journal reported that well before that, though, Trump and his then-lawyer and fixer Michael Cohen had learned that Daniels was considering speaking publicly about the affair that she claimed she had with Trump back in 2006. (Trump denies that the affair ever took place.)
Daniels, however, had signed a nondisclosure agreement with Trump in October 2016, agreeing not to make her claims of the affair public. Because of this agreement, The Wall Street Journal reported, Trump directed Cohen in February 2018 to seek a restraining order against Daniels through a confidential arbitration proceeding. According to Trump's own directions, The Journal reported, middle Trump son Eric would coordinate the legal action against Daniels, with the help of another Trump Organization lawyer.
This reporting suggests that the president has not been truthful about a number of things in the past, not only regarding the story surrounding Daniels. According to a compilation of Trump's changing positions on the Daniels affair by Time, the first account that the public heard was from Cohen, saying that he had paid Daniels out of his own pocket before the 2016 election without Trump's knowledge. The White House even said in March that Trump didn't know about the payment, which Trump later reiterated himself, according to Time.
In April, then, Trump made a comment on Fox & Friends that insinuated that he did have knowledge of Cohen's payment to Daniels, as The Washington Post noted. The whole story then changed again in May, when new Trump lawyer Rudy Giuliani told Sean Hannity that Trump had actually reimbursed Cohen for the payment. Trump himself then backed this account up in a series of tweets — and then, according to Time, both men claimed that Giuliani hadn't gotten his facts straight, and that Trump actually hadn't known about the payment.
Importantly, though, The Wall Street Journal's report also suggests that Trump's separation from his business isn't as complete as he promised it would be when he became president. The fact that his business — through Eric Trump and another lawyer affiliated with the organization — coordinated the legal action implies that the president is still connected to the business. This corroborates, for example, the December 2017 Daily Beast report that said Trump was still involved in his hotel business throughout the first year of his presidency.
The president, the White House, the president's lawyer, and the Trump Organization all declined to comment on The Wall Street Journal's story — but the issue could come up again if Cohen or Daniels decide to weigh in.