Trump Actually Made A Video Claiming Google Paid More Attention To Obama Than Him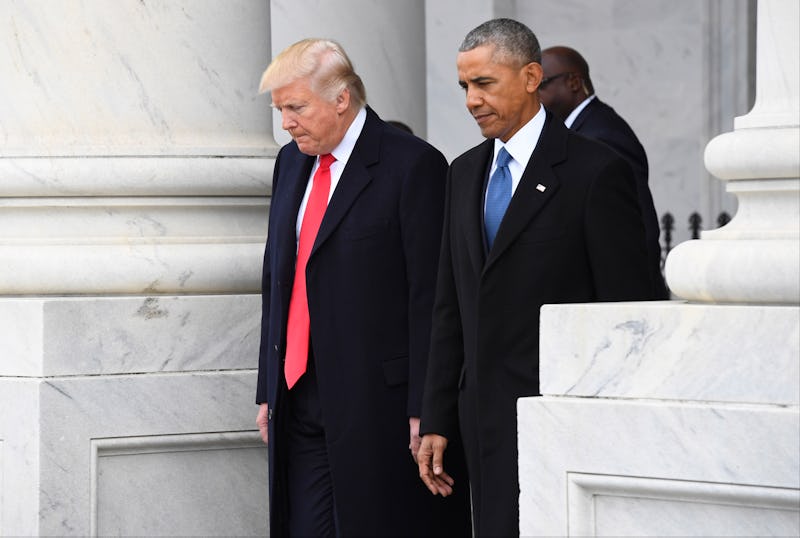 Pool/Getty Images News/Getty Images
President Donald Trump attacked one of the most widely known search engines this week, claiming Google purposefully hid conservative news sources when individuals search "Trump News." The argument continued Wednesday, when Trump tweeted a "Stop The Bias" video, claiming Google paid more attention to former President Barack Obama's State of the Union addresses than his own.
Trump kicked off this campaign against Google with a Tuesday morning tweet, where he wrote, "Google & others are suppressing voices of Conservatives and hiding information and news that is good. They are controlling what we can & cannot see. This is a very serious situation-will be addressed!"
In Wednesday's video, ominous music plays as text reads "For years, Google promoted Obama's State of the Union on its homepage. When President Trump took office, Google stopped."
The video shows screenshots of Google's homepage from specific dates between 2012 and 2016, with promotional messages at the bottom encouraging web viewers to watch Obama's speech live on YouTube. On February 28, 2017 and January 30, 2018 — the dates of Trump's speeches to joint sessions of Congress — the section below Google's search bar is noticeably blank.
Google has continuously denied all allegations. Business Insider reports the company released a statement Tuesday saying, "Search is not used to set a political agenda. We don't bias our results toward any political ideology."
According to CNBC, Google says it did actually promote Trump's 2018 State of the Union, contrary to the president's video. Google also said it historically doesn't promote the first speech a president gives to a joint session of Congress, as this address is technically not a State of the Union. Thus, Google did not promote Obama's first address in 2009, nor Trump's in 2017.
CNN also debunked the methods behind conservative outlet PJ Media's story titled, "96 Percent of Google Search Results for 'Trump' News Are from Liberal Media Outlets" — the story on which Trump based Tuesday's Twitter rampage. "What Bolyard is suggesting is that because we don't know the algorithm that Google uses to populate its "News" tab, it's possible that they could be purposely editing out conservative sites," CNN editor Chris Cillizza explained. "Because we can't rule it out, then no one can say what she's suggesting isn't true."
Trump's video tweet on the subject is captioned simply "#StopTheBias," promoting a conservative movement that has been gathering ever since the far-right conspiracy theorist Alex Jones was banned from a number of social media platforms earlier this month.
The "Stop The Bias" hashtag has already gained traction, with a Twitter account dedicated to the movement. The account's ID photo depicts the Twitter bird upside-down, with an "x" for an eye.
"Take a stand against Social Media Censorship!" reads one of the account's tweets. "@realdonaldtrump knows this is a problem, let's show him how important it is to us! The President is watching."
On Tuesday, Trump's top economic adviser, Larry Kudlow, said the White House would be "taking a look" at if Google should be regulated, and how, The Washington Post reports. Regulating search results could violate First Amendment rights, but the president has not backtracked his statements.