Trump Tweets About "Shattered" Lives After 2 Staffers Resign Over Abuse Allegations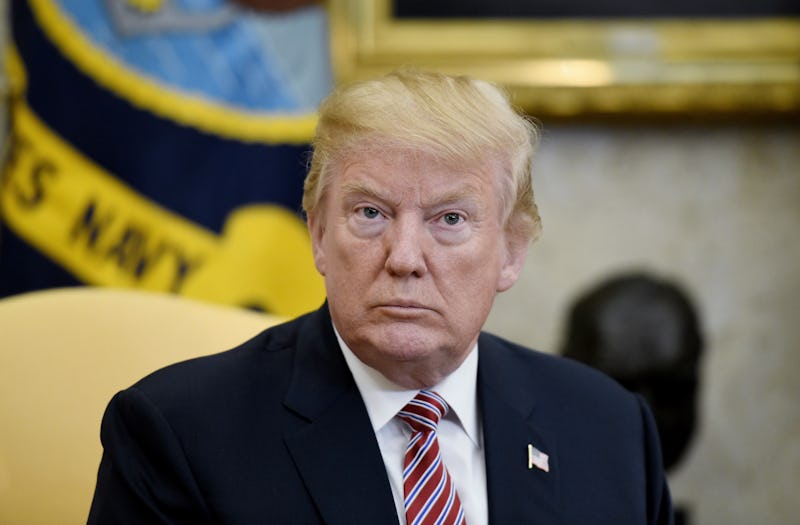 Pool/Getty Images News/Getty Images
President Donald Trump turned to his favorite social media network to air a few of his concerns Saturday. In a tweet, Trump bemoaned how "a mere allegation" can shatter the accused's life and questioned what had happened to due process. While he didn't delve into specifics, Trump's tweet about allegations comes just one day after he'd defended former White House staff secretary Rob Porter, who was forced to resign earlier this week following allegations of domestic abuse.
"Peoples lives are being shattered and destroyed by a mere allegation," the president tweeted Saturday. "Some are true and some are false. Some are old and some are new. There is no recovery for someone falsely accused - life and career are gone. Is there no such thing any longer as Due Process?"
On Friday, Trump appeared to sympathize with Porter, telling reporters it was "very sad" he'd had to resign and that he wished him well. "He says he's innocent, and I think you have to remember that," the president said. "He said very strongly yesterday that he's innocent." Although Porter called the allegations of abuse and violence levied against him by his two ex-wives "outrageous" and "simply false," he resigned from his position within the White House on Wednesday.
Porter is not the only White House staffer to have resigned this week amid allegations of domestic abuse. Speechwriter David Sorensen resigned Friday after White House officials confronted him about his ex-wife's allegations of emotional and physical abuse, White House deputy press secretary Raj Shah said in a statement. Sorensen, who had worked under senior policy adviser Stephen Miller, denied the allegations. He told the Washington Post he'd resigned because he "didn't want the White House to have to deal with this distraction." President Trump had not directly commented on Sorensen's resignation as of Saturday morning.
However, the tweet Trump posted Saturday about allegations having the power to "shatter" and "destroy" lives isn't the first time the president has appeared to defend those accused of sexual misconduct or abuse. In November, President Trump broke with his party to support Roy Moore despite allegations the Republican Alabama Senate candidate had engaged in sexually inappropriate relationships with underage girls.
"He totally denies it," President Trump told reporters Nov. 21. "He says it didn't happen. You have to listen to him, also."
Moreover, the president appeared to cast doubt over the allegations against Moore in a statement delivered earlier in the month on his behalf by White House Press Secretary Sarah Huckabee Sanders. "Like most Americans, the president believes that we cannot allow a mere allegation — in this case, one from many years ago — to destroy a person's life," Sanders said.
But it wasn't just Trump's comment about allegations that riled up his critics. His remark about due process didn't appear to sit well with those who recalled how Trump had, in 1989, paid for a full page newspaper ad urging authorities to bring back the death penalty to punish five black and Latino teens, known as the Central Park Five. The teens were alleged to have raped a white female jogger. While the teens' convictions were vacated in 2002 after another person confessed and DNA evidence cleared them, Trump continued to argue the teens were guilty until as late as October 2016.
Currently, at least 16 women have gone on the record to accuse Trump of sexual misconduct. Those accusations range from assault, unwanted groping, nonconsensual kissing, sexual harassment, and walking in on women while they were in various stages of undress. Trump has strongly denied these allegations and has called his accusers "liars."