Trump Is Still Saying Poor Forest Management Contributed To The California Wildfires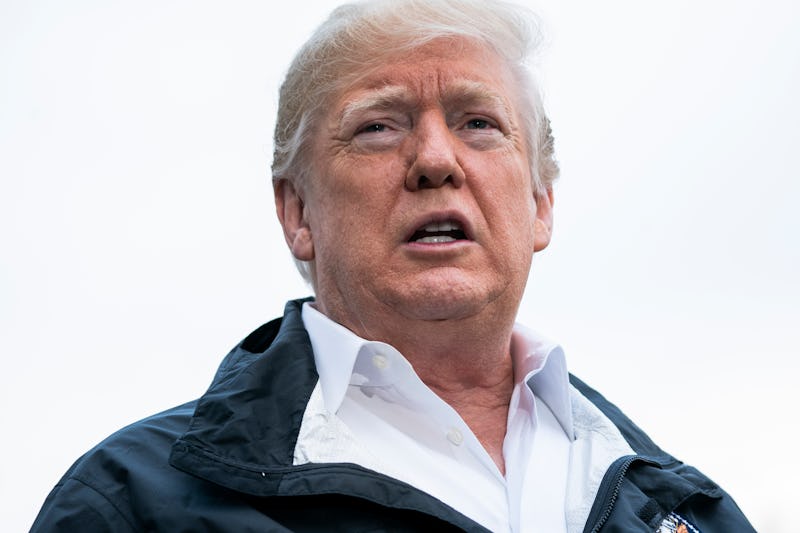 Pool/Getty Images News/Getty Images
President Donald Trump arrived in California on Saturday to tour neighborhoods that have been devastated by ongoing wildfires, and pledged federal resources to assist state residents in the recovery process. However, Trump wouldn't say climate change contributed to the wildfires; instead, he continued to criticize poor forest management.
Earlier this week, Trump blamed the wildfires currently devastating California on the "gross mismanagement of the forests," and threatened to withhold federal resources. Local firefighting associations in California were quick to respond, pointing out that neither the Camp Fire in Northern California nor the Woolsey Fire in Southern California started in a forest. Trump critics, meanwhile, suggested that Trump's discussion of forest management was actually a dog-whistle for logging interests.
Many people also responded to the president's claims by pointing out that climate change and human activity significantly exacerbated the wildfires in California. In an interview with Fox News' Chris Wallace on Friday, Trump acknowledged that "maybe [climate change] contributes a little bit" but insisted that "the big problem we have is management."
During his visit to California on Saturday, Trump doubled down on the alleged management issue, and told reporters that the wildfires did not change his opinion on climate change.
"No, no," Trump said in Chico, per CNN. "I have a strong opinion: I want great climate. We're going to have that, and we are going to have that are very safe because we can't go through this. Every year we go through this. We're going to have safe forests and that's happening as we speak."
Among the places Trump visited on Saturday was the Northern California town of Paradise, which was destroyed by the Camp Fire. According to the San Francisco Chronicle's 2018 California fire tracker, the Camp Fire destroyed more than 12,000 structures in the region, including 9,700 homes lost. When Trump saw the damage that the Camp Fire had wrought on Paradise, he expressed his hope that "this is going to be the last of these because this was a really, really bad one," NPR reported.
"Right now, we want to take care of the people who have been so badly hurt," Trump said on a visit to a recreational vehicle park in Paradise. "Nobody would have ever thought this could happen."
Trump then suggested that countries like Sweden are better able to reduce forest fires because they "clean the floor" of the forest. He argued that the U.S. needs to take better care of its forest floors, but as CNN pointed out, he did not explain how this would impact or contain wildfires.
Trump also offered praise to first responders in the area, lauding them for "fighting like hell" to contain the wildfires. However, Trump's visit also prompted some protesters to challenge the president on the topic of climate change. As Trump was driving to a meeting with local rescuers, protesters lined the road, per The Washington Post, and one had a sign that read "Moron, we are in a drought" — referring to the fact that dry conditions in California made it easier for wildfires to spread.