Trump Will Be At Bush Sr.'s Funeral — Despite Tensions Between Him & The Family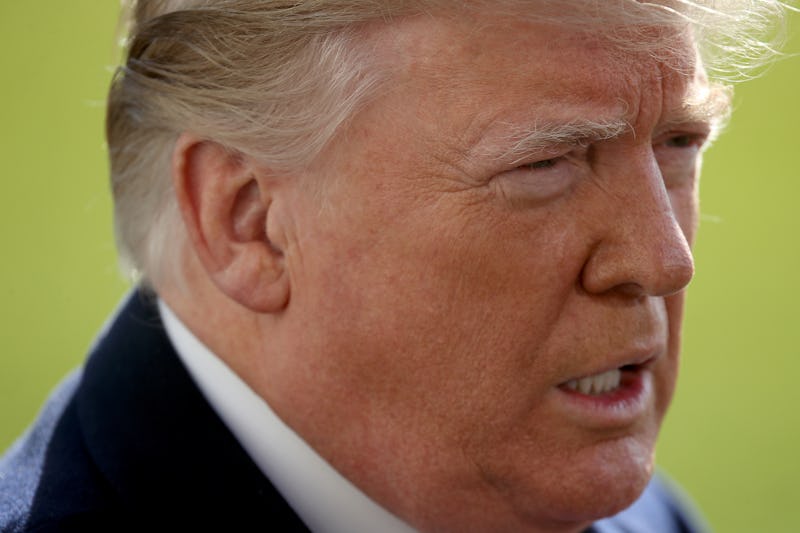 Win McNamee/Getty Images News/Getty Images
President Donald Trump hasn't had the warmest relationship with members of George H. W. Bush's family. But according to The New York Times, in an apparent attempt to find a compromise between a longstanding tradition and the tensions between POTUS and the Bush family, Trump will attend Bush Sr.'s funeral. He won't, however, be giving a eulogy, according to the Times.
Bush Sr. passed away on Friday night, just months after his wife, Barbara Bush, died in April. Out of respect to the 41st president, Trump called off a press conference at the G20 summit in Argentina on Saturday, according to CNN.
Several high-ranking politicians have already viewed the late president's casket at the Capitol Rotunda on Monday. On Wednesday morning, a state funeral for Bush Sr. will be held at the National Cathedral in Washington, D.C. Trump has also declared that Wednesday will be a day of mourning in America.
On Thursday, Bush Sr. will be given a funeral service at the St. Martin's Episcopal Church in Houston, Texas. He will be buried at the George H.W. Bush Presidential Library in College Station in the same state.
On Monday, Trump tweeted, "Looking forward to being with the Bush Family to pay my respects to President George H.W. Bush." For some readers, this tweet may appear to be in contrast with Trump's previous remarks about various members of the Bush brood.
In a recent example, while speaking of the family's patriarch in Montana in July, Trump mocked Bush's "a thousand points of light" phrase that the latter coined to encourage public service in the country.
That July, Trump said to his audience, "'Thousands points of light.' What the hell was that, by the way? 'Thousand points of light.' What does that mean? I know one thing: Make America Great Again we understand. Putting America first we understand."
"'Thousand points of light,' I never quite got that one," Trump went on. "What the hell is that? Has anyone ever figured that one out? It was put out by a Republican, wasn't it?"
On Saturday, though, Trump took on a decidedly different tone in an official statement. "Through his essential authenticity," Trump said of Bush Sr., "disarming wit, and unwavering commitment to faith, family, and country, President Bush inspired generations of his fellow Americans to public service — to be, in his words, 'a thousand points of light' illuminating the greatness, hope, and opportunity of America to the world."
Trump not only mocked Bush Sr., he also attacked the latter's son, Jeb Bush, in 2016. That year, Trump tweeted about Bush Sr.'s son's political ad which featured his mother praising him as "a very good father, a wonderful son, [and] a hard worker."
But the former first lady's endorsement didn't land for Trump. "Just watched Jeb's ad," he said, "where he desperately needed mommy to help him. Jeb, mom can't help you with ISIS, the Chinese or with Putin." It was just one of the many times Trump went after Jeb.
Considering Trump's controversial commentary in the past, it may be a surprise for some to see him at Bush Sr.'s funeral. But, as mentioned before, this may be one of those times when political compromise takes priority over personal acrimony.