Trump's Latest Comments On Roe V. Wade & The Supreme Court Are Zero Percent Comforting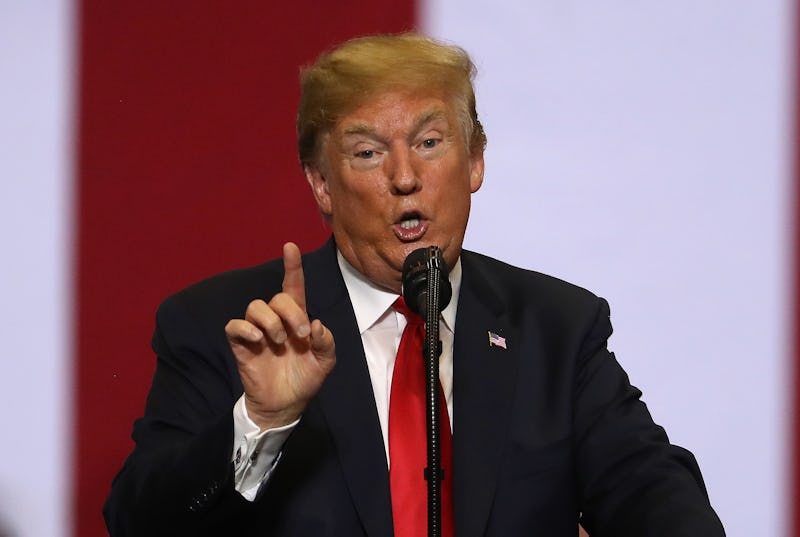 Justin Sullivan/Getty Images News/Getty Images
Following the announcement of Supreme Court Justice Anthony Kennedy's impending retirement, there has been much speculation about who will replace him. You might be wondering how the new justice could impact the future of the United States, particularly when it comes to abortion rights. But Trump won't ask SCOTUS picks about Roe v. Wade, he suggested in a new interview on Sunday. However, he indicated that he could foresee a time when abortion's legality is left to the states to decide.
Trump gave an extensive interview to Maria Bartiromo on Fox News' Sunday Morning Futures. The host inquired whether the president would specifically ask about Roe v. Wade when interviewing candidates to replace Justice Kennedy. Trump responded that he has been encouraged not to directly ask potential nominees about the landmark abortion rights case, telling the show's host:
They're all saying, 'Don't do that, you don't do that, you shouldn't do that' ... But I'm putting conservative people on, and I'm very proud of [Justice Neil] Gorsuch. He's been outstanding ... and I'm going to try to do something like that, but I don't think I'm going to be so specific and I'm actually told I shouldn't be.
However, while implying that he would not ask potential nominees about Roe v. Wade, the president did tell Bartiromo that, in the future, abortion rights could become an issue decided by the states.
As Trump put it:
Maybe some day it will be to the states, you never know how that's going to turn out. That's a very complex question ... The Roe v. Wade is probably the one that people are talking about in terms of having an effect. But we'll see what happens, but it could very well end up with states at some point.
Trump has said in the past that he believed Roe v. Wade would likely be overturned if had the opportunity to nominate Supreme Court justices. As NPR reported, during the third presidential debate in 2016, Trump noted that he felt that Roe v. Wade would be overturned "automatically" if, as president, he was able to nominate two or three supreme court justices. Trump also said during that same debate that he would plan to appoint "pro-life" judges if given the opportunity to select new justices.
Trump told Bartiromo that he thinks the nomination process for his SCOTUS pick will begin imminently. During the interview, the president also discussed the influence and impact of Supreme Court justices, reflecting on how his last nominee, Neil Gorsuch, has been the deciding vote in recent cases. "The last four decisions at the Supreme Court were all 5-4, they would have all been reversed," Trump said. "Outside of war and peace, obviously the biggest decision you can make is the selection of a Supreme Court justice."
As NPR reported, Trump's initial list of potential replacements for Justice Kennedy was largely developed by the Federalist Society, a group of conservative lawyers who "place a premium on individual liberty, traditional values, and the rule of law." The New York Times' Maggie Haberman said via Twitter that she believes that, because the president's list was reportedly heavily influenced by the Federalist Society, it's a given that the potential nominees are not in favor of abortion rights. "They're all against abortion - they've been screened by the Federalist Society ... they've addressed their views on constitutionality of Roe v Wade previously," Haberman said.
According to NPR, the president's initial list of SCOTUS candidates reportedly contained 25 potential nominees. However, last Friday he told reporters traveling on Air Force One that he had narrowed the list down to five candidates. He is soon expected to reveal his final pick.