A New Poll Shows Trump's Abortion Gag Rule Is Actually Splitting Apart His Base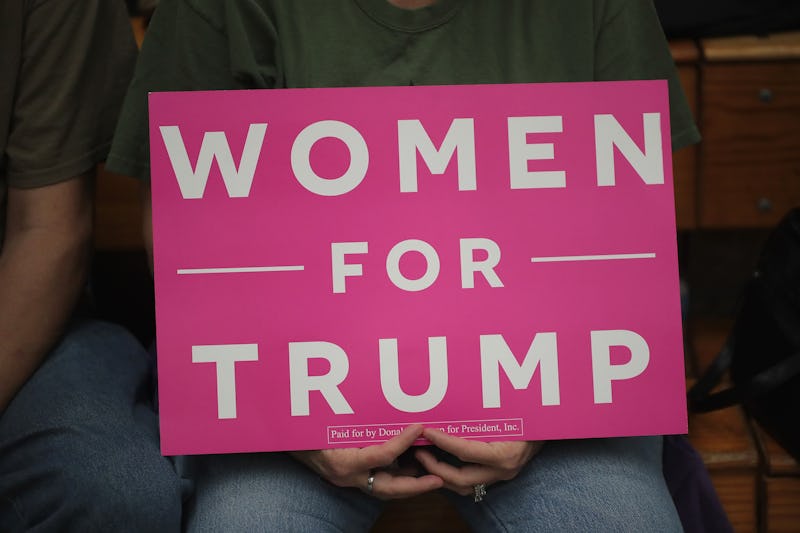 Scott Olson/Getty Images News/Getty Images
President Trump's supporters are torn about his proposal to prohibit clinics that provide abortions from receiving crucial federal family planning funding. Abortion rights advocates quickly rallied against the proposed Title X funding cuts, which also seek to prevent doctors from referring patients to abortion services. But a new poll conducted by Hart Research Associates on behalf of Planned Parenthood reveals Trump's abortion gag rule has Republican voters pretty divided.
The national survey was conducted earlier this month, before Trump publicized his domestic gag rule proposal on Tuesday. But the poll specifically asked voters what they thought about a measure "that would take away funds from health care providers unless the provider agrees to never talk to patients about abortion as an option and agrees not to provide abortion under any circumstances." The question continued: "These policies would block women from getting care at Planned Parenthood and other reproductive health care centers and keep women from having information about all their options."
Among all Republican respondents in the poll, 44 percent said they disapproved of such a policy. That number was the same for all Trump voters, but rose to 48 percent among women Republicans, and 47 percent among women who voted for Trump, according to data Hart Research Associates shared with Bustle.
"Part of what women are objecting to... is keeping women from having information about all their options," Geoff Garin, president of Hart Research Associates, said in a Wednesday press call. "We know from a lot of research that women and voters in general find that to be offensive."
Disapproval from Republican respondents was far lower than disapproval among all those surveyed, however. About 73 percent of voters overall said they disapprove of a domestic gag rule, with 53 percent strongly disapproving. A whopping 94 percent of Democratic voters and 82 percent of independents also disapproved, according to the poll.
While more than half of Republicans said they approved of Trump's plan, Garin explained in Wednesday's press call that Republicans were more divided on the issue than pollsters typically see — especially since the poll specified that the Trump-Pence administration was considering the abortion gag rule in question.
"One thing that is self evident in the polling here is that women voters in particular, but voters across the board, already recognize that the Trump administration and Republican leaders are taking steps to restrict women's access to reproductive health care in America," Garin said.
Trump's proposed changes to the Title X program must undergo review by the Office of Management and Budget before going into effect, which includes a public comment period. Planned Parenthood told reporters on Wednesday that the organization "will explore every option, including litigation" to stop the plan.
It's already illegal for federal dollars to go toward abortion services. The Title X Family Planning program was enacted in 1970 to provide "comprehensive family planning and related preventive health services" to low-income Americans, according to the Department of Health and Human Services website. Trump's domestic gag rule would prevent Title X patients from going to clinics that provide abortions for birth control, testing and treatment for sexually transmitted diseases, wellness exams, and cancer screenings.
Planned Parenthood clinics make up 13 percent of Title X centers, but serve 41 percent of all Title X patients, according to the organization's website. Those patients would be left without a doctor if the Trump administration successfully withholds Title X funds from abortion providers.
"Attacks on Title X and a domestic gag rule are designed to take away women's basic reproductive rights," Dawn Laguens, executive vice president of Planned Parenthood, told reporters on Wednesday. "I think it is fair to say this is a day American women thought they would never see and I don't believe they will stand for it."