Trump's Anti-Opioid Abuse Bill Will Address The National Epidemic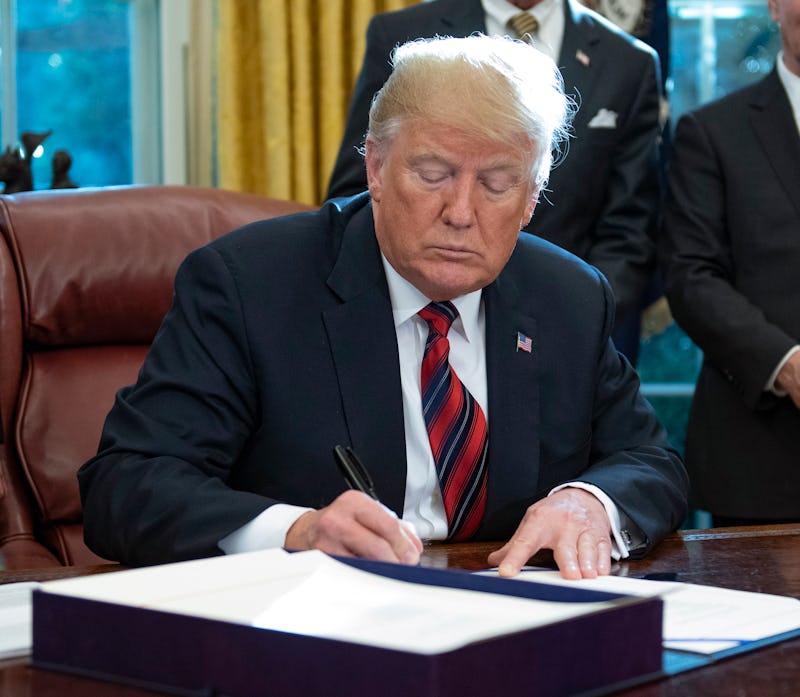 Pool/Getty Images News/Getty Images
Despite gridlock on just about everything in Congress, moves to address the country's opioid epidemic have advanced and a bill made its way to President Donald Trump's desk. The measure would make medical treatment more readily available and ensure it's harder to mail drugs. Trump signed the anti-opioid abuse bill on Wednesday.
The Medicaid program will be one of the measure's biggest benefactors under the bill. Funds would provide for the program to offer substance abuse programs to those who rely on the government insurance, mostly middle and lower income Americans as well as some disabled people. The bill also opens up more federal grants to target the problem.
This is one of the first big expansion of funds. Trump had declared the opioid epidemic a "health emergency" in October 2017, but did not provide any funds to tackle the problem. Had he at the time declared a "national emergency," funds for treatment programs similar to those funded in the bill could have been allocated rapidly.
In January, reports suggested that nothing had changed — a full year after the president had assumed office, promising to address the crisis. Then in May, Trump did declare the "national emergency" and instructed his administration to "appropriate emergency and other authorities to respond to the crisis caused by the opioid epidemic."
With the bill signed Wednesday, it would seem Trump — together with Congress — finally got things right. "It is heartening to see our elected officials put national interest above partisan politics and join hands to tackle a public health problem," Guohua Li, a professor of epidemiology and anesthesiology at Columbia University, told CNN. "The legislation represents an elevated federal response to the opioid epidemic, including increased financial support and some sound and sensible policy initiatives."
That hasn't stopped critics from speaking out on the administration's moves up until this point. Sen. Elizabeth Warren wrote a nine-page letter in July criticizing the administration's response at that point to the epidemic.
"Communities are desperately in need of more help to address the opioid epidemic. President Trump, as this report shows, has broken his promises to do his part," Warren said in the statement. "I've asked this administration time and time again to show what actions they are taking to meaningfully address this crisis. No response. To me, it looks like empty words and broken promises. Hand-waving about faster paperwork and speeding up a few grants is not enough — the Trump Administration needs to do far more to stop the opioid epidemic."
Criticism has surfaced again this week following a report by the Government Accountability Office that explored the administration's moves, for example, waiving the period of public notice needed to implement state programs for treatment.
The bill signed Wednesday has been signed by members of both parties. In the Senate, the bill advanced 98-1 in early October. Only Sen. Mike Lee of Utah, a Republican, voted no; Ted Cruz did not vote. The House's version was approved bill 393-8. The no votes were also all Republican.
Some 72,000 Americans died of drug-overdose deaths in 2017, which was a 7 percent increase from 2016. Now, with the funding for treatment programs in place, this bill may finally reverse that trend.