Trump Didn't Wish Tiffany A Happy Birthday On Social Media — And This Could Be Why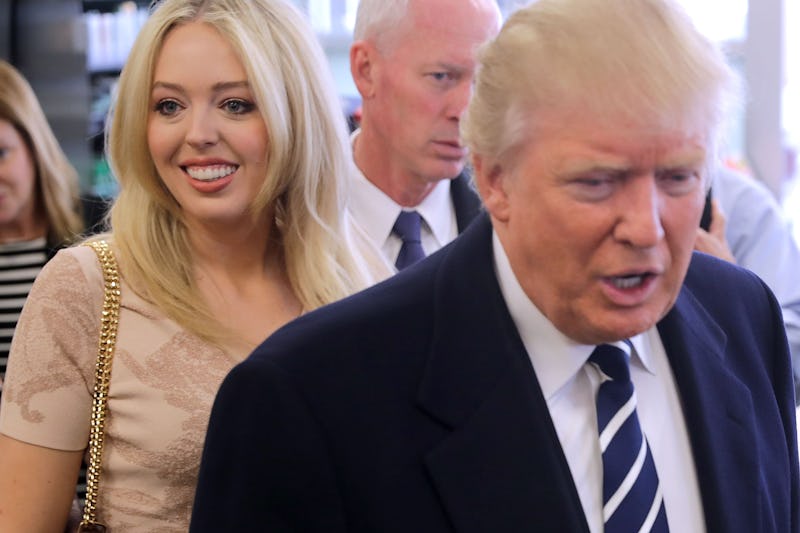 Chip Somodevilla/Getty Images News/Getty Images
In celebration of the day his youngest daughter was born, President Donald Trump took to Twitter to wish the Navy a happy birthday. As the Navy celebrated 243 years on Friday, Tiffany Trump turned 25. But while the Navy received a happy birthday shout-out from the president, Trump's public birthday message to Tiffany was, well, nonexistent. Granted, 243 is certainly a more impressive age than 25.
"Happy 243rd Birthday to our GREAT @USNavy!" Trump tweeted Friday, with nary a peep about his daughter's 25th birthday.
The invention of social media networks brought with it a litany of new social courtesies, including the happy birthday shout-out. I mean, in this day and age, does a happy birthday wish not uttered in the caverns of social media even really exist? Yet it seems as if ignoring Tiffany's birthday on social media has become something of a tradition for the Trump clan.
Despite her father's penchant for Twitter and her siblings' regular use of both the micro-blogging platform, Facebook, and Instagram — in recent years, they've all regularly wished each other and their children happy birthdays on the platform — Tiffany received exactly zero happy birthday wishes from her father, stepmother, or siblings on social media last year. Of course, it could be that Tiffany prefers to keep her happy birthday wishes offline and that the Trump clan delivers their birthday sentiments the good old-fashioned way — via cards, or phone calls, or face-to-face visits.
But interestingly, it's not as if no one in the Trump clan has simply never wished Tiffany a happy birthday online ever. In the years before Trump took over the White House, more than one family member wished Tiffany a happy birthday on social media. In 2014, older sister Ivanka Trump toasted Tiffany's birthday by sharing a photo of her and Tiffany on Instagram and Twitter along with a sweet message. "Happy Birthday @tiffanytrump!" she wrote. "I'm so proud of the woman you have become! xo."
Tiffany has even gotten a happy birthday tweet from her father in years past. In fact, the last time the president appeared to have wished his youngest daughter a happy birthday on Twitter came in 2013, when he tweeted, "@TiffanyATrump Happy birthday to my baby — and keep up the great work at school. We are all proud of you!" But both this year and last year, Trump marked Tiffany's birthday on Twitter with tweets celebrating the U.S. Navy's creation.
However, while older brother Eric Trump has wished his dad, Ivanka, his wife, his niece, the U.S. Marine Corps, and even his dog Charlie a happy birthday on Twitter, he doesn't appear to have ever wished his youngest sister one. Donald Trump Jr., Tiffany's eldest brother, also appears to have never tweeted his youngest sister a happy birthday message.
While Ivanka assists their father in Washington, D.C., and Eric and Donald Jr. keep things in order over at The Trump Organization, Tiffany is studying at Georgetown Law School and is seen at fewer presidential functions than her siblings.