Trump's Chinese Tariffs Could Impact How Much You Pay For Your Fave Tech Products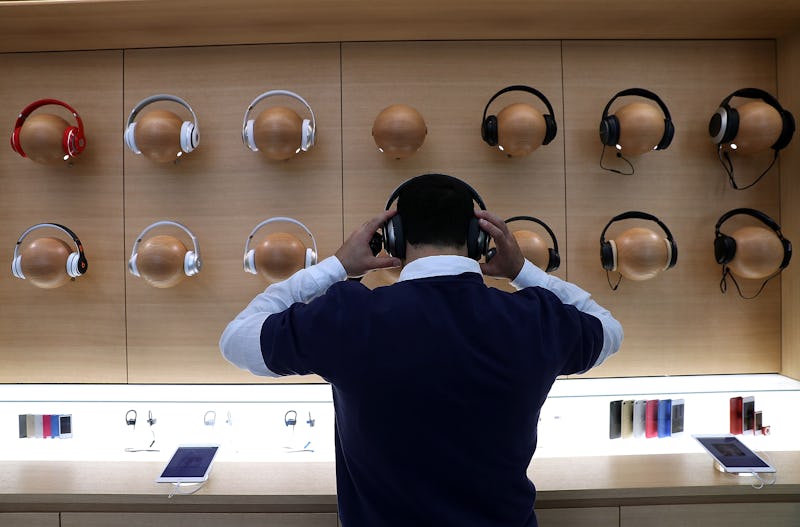 Justin Sullivan/Getty Images News/Getty Images
President Trump is not backing down from his trade war, and he's about to unleash his next blow. On Tuesday, the Trump administration announced that billions of dollars worth of Chinese imports will be hit in late August, and this particular round of import taxes could hurt millennials the most. Trump's Chinese tariffs will affect tech products, according to The Associated Press, and prices hikes on things like headphones and internet service could come sooner rather than later.
Federal officials released a 10-page list of $16 billion worth of Chinese products to be slapped with a 25% tariff, with many of the items being essential components used in wireless gadgets. The products also include motorcycles, speedometers, and antennas, according to CNN.
"In particular, the largest item in this new list are semiconductors that are integrated in many electronic devices," Paul Piveteau, an assistant professor of International Economics at Johns Hopkins University, says in an email to Bustle. "These products are heavily imported from China and so it is not clear whether American companies will be able to find substitutes for the same price ... As a consequence, this is likely to have a big impact on companies' cost of production and therefore, consumer prices."
The tariffs would also affect chips used in consumer electronics devices, according to AP's examination of JLab Audio, the maker of the Bluetooth headphones and speakers that connect wirelessly to smartphones. Trump's tariffs would reportedly have an impact on products that make up to 80 percent of JLab's sales. And that means those costs will be passed on to the people buying the products.
"Just about any wireless accessory made for a phone is going to be affected," JLab CEO Win Cramer said to the AP. "We are going to have to start charging retailers more, and my guess is they can't afford the haircut either. So at the end of the day the consumer is going to pick up the tab."
For example, if JLab does shift the entire cost of the 25% tariff to consumers, a pair of sports earbuds on its site selling at $149 could end up costing $186.25, according to AP (with updated tariff numbers).
This latest series of targeted products is the second strike from the Trump administration on Chinese goods. In June, Trump declared that he would slap tariffs on a total of $50 billion in Chinese goods, according to Vox. That first round of tariffs, which ended up targeting $34 billion worth of Chinese products, went into effect on July 6. In response, Beijing has retaliated by issuing its own tariffs on a number of American goods, like Levi's jeans and Kentucky bourbon, accusing the United States of trade intimidation, CNN reported. Trump's tariffs come even as American business owners have expressed alarm that tariffs would mean layoffs and an increased price for consumers.
But the Trump administration has been obstinate in its trade stance, accusing China of unfair trade practices. President Trump has harped on the United States' trade deficit — roughly $375 billion in 2017, according to Reuters — in goods with China and has stated his determination to bring it down.
It doesn't look like either country will cave any time soon, though the rapidly rising unhappiness of consumers and American exporters could change things. As Piveteau reasoned, the White House might rethink its approach because of "the growing discontent of consumers and exporters of products targeted by the Chinese retaliation," which is likely to come with a growing political cost each passing day.