Trump Brought Up George Washington To Defend Kavanaugh & Everyone Is Confused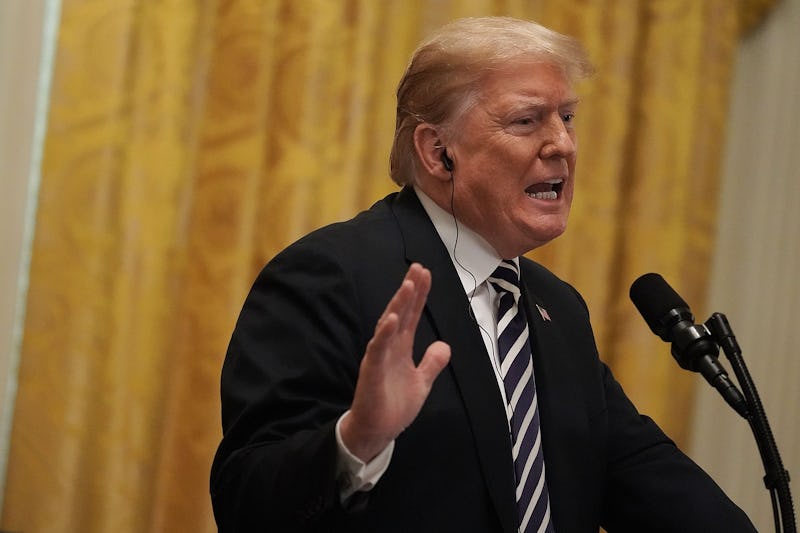 Alex Wong/Getty Images News/Getty Images
At a freewheeling press conference Wednesday, President Trump compared George Washington to Brett Kavanaugh, and said that Washington "may have had a bad past." The president made the comments a day before Dr. Christine Blasey Ford, who has accused Kavanaugh of attempting to rape her, is set to testify in front of the Senate Judiciary Committee about Kavanaugh's nomination to the Supreme Court.
"If we brought George Washington here, and we say this is George Washington, the Democrats would vote against him," Trump said at the press conference. "He may have had a bad past. Who knows? He may have had some, I think, accusations made."
Ford is one of three three women to go on the record accusing Kavanaugh of sexual misconduct; she says that when they were teenagers, Kavanaugh pinned her to a bed, attempted to remove her clothes, groped her and pressed his hand against her mouth when she tried to scream. Kavanaugh denies all of the allegations, and Trump said at his presser Wednesday that he thinks the accusations against Kavanaugh "are all false."
"Didn't he have a couple of things in his past?," Trump wondered aloud at his press conference. "George Washington would be voted against 100 percent by [Senate Minority Leader Chuck] Schumer and the con artists. I mean, 100 percent. 100 percent. So it really doesn't matter, from their standpoint."
Many on Twitter dove into Trump's comments about Washington, with some arguing that, if America's first president was somehow on the ballot in 2018, there would in fact be good reason to vote against him.
"Democrats want to distract you with tales of George Washington 'owning other human beings as chattel' because they know they can't win a debate about his judicial philosophy," ThinkProgress editor Ian Millhiser quipped, referencing the 100-plus slaves that Washington owned.
"For the record, if George Washington owned people in 2018, I do hope that members of Congress would indeed block his nomination to the Supreme Court," wrote Dr. Jacqueline Antonovich, an assistant history professor at Muhlenberg College.
"The fact that George Washington is trending on Twitter because the president just implied that he may have had sexual assault allegations in his past, feels like peak 2018," NPR's Eric Deggans observed. "At least, until tomorrow."
Trump said Wednesday that he'll listen to Ford's testimony with an open mind, and will withdraw Kavanaugh's nomination if he believes that Ford is telling the truth. However, he also said that he wishes Republicans had pushed Kavanaugh's nomination through the Senate earlier in the month without giving Ford a chance to testify.
"They could have pushed it through two and a half weeks ago and you wouldn't be talking about it right now, which is frankly what I would have preferred," Trump said, according to the New York Times' Peter Baker.
Many Senate Republicans have indicated that they don't believe Ford or Kavanaugh's other accusers. Sen. Lindsey Graham said he'll vote for Kavanaugh regardless of what Ford says at her testimony, while Sen. Orrin Hatch lamented that the accusations aren't "fair to Brett Kavanaugh."
"I don't think we should put up with it, to be honest with you," Hatch said after Kavanaugh's third accuser went public on Wednesday.