Protesters In Scotland Want To Make Sure Trump Won't Get To Play Golf In Peace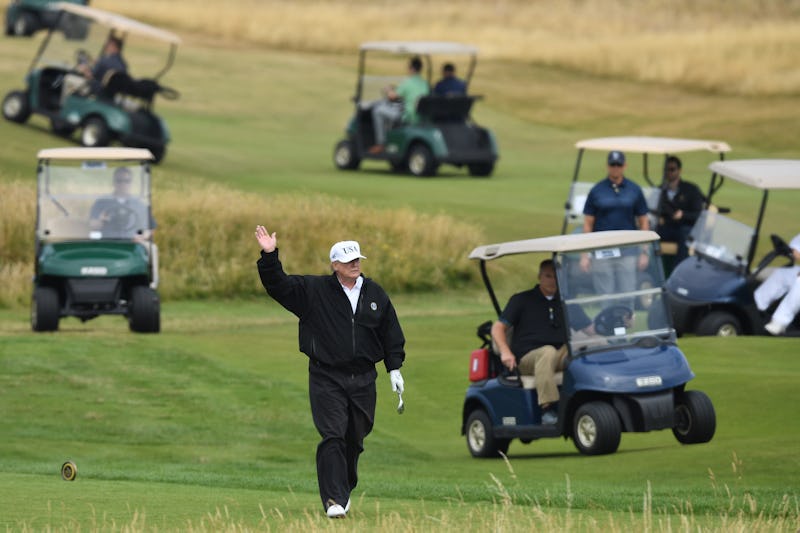 Leon Neal/Getty Images News/Getty Images
As President Donald Trump's visit to the U.K. kicked off, tens of thousands of protesters showed up in droves in England and Scotland. Although Trump's meetings were scheduled to take place away from the bulk of the demonstrations in England, activists found a way to catch up with him when he flew to Scotland — and they did it on his turf, too. A group of rowdy protesters chanted as Trump golfed in Scotland on Saturday.
As the president played at his Turnberry golf resort, people yelled out "No Trump, no KKK, no racist USA," a video posted to Twitter by BBC reporter Frankie McCamley shows.
It was hardly a surprise that adamant protesters tracked him down to his Turnberry resort — their disdain for the American president was more than evident. A report from the London Evening Standard said activists claimed almost 250,000 demonstrators marched in central London on Friday when he met with Theresa May, then the queen.
Then Friday night, the president flew to Scotland. And at least one person was ready for him, descending on Trump's Turnberry course. Literally. A Greenpeace activist paraglided over the Scottish golf course brandishing a banner that read: "Trump: Well Below Par."
This was a bold move that Greenpeace claimed was pointed at the U.S. president's environmental and immigration policies. However, Scottish police weren't amused by the creativity of the protest — which Greenpeace informed them about only 10 minutes before the glider took his flight. They told The Associated Press that the protest was illegal because the paraglider breached a no-fly zone. They're currently looking for the activist, The Hill reported.
In a similar bid to protest the president from air as well as land, a separate group of protesters want to fly the giant blimp depicting a baby version of Donald Trump at his Scotland course as well. They already flew the balloon at a protest in London, and they want to transport it and all of its 20-foot-tall glory to the golf course at Turnberry, The Hill reported. Although Scottish police told the group they couldn't fly the Trump baby during the president's visit at Turnberry, they said they'd discussion other options for the balloon to take flight and do its thing.
And if protesters wanted to find a sure-fire place to find the president to deliver their message, picking a golf course was a good bet. NBC News did the math in December of 2017, and reported at the time that Trump had spent 127 days at golf properties since he was inaugurated in January 2017. He most frequently went to the golf course at Trump International West Palm, which he'd visited 42 times at that point. NBC News noted that it was hard to say for sure how many times Trump has actually golfed since becoming president, as his staff sometimes attempts to keep Trump's activity under wraps.
Trump loves golf and will tell America so. On Saturday morning, the president tweeted about his schedule, and mentioned that his primary form of exercise was golf.
"I have arrived in Scotland and will be at Trump Turnberry for two days of meetings, calls and hopefully, some golf - my primary form of exercise!" he tweeted. "The weather is beautiful, and this place is incredible! Tomorrow I go to Helsinki for a Monday meeting with Vladimir Putin."
According to Mother Jones, Trump began doing business in Scotland back in 2006 when he paid $16.6 million for land located north of Aberdeen, Scotland. It was there in 2012 he completed the first of two golf courses he'd proposed. Then two years later, he purchased Turnberry, which is located in southwest Scotland, for $59 million. According to a Bloomberg report analyzing UK records, the president hasn't seen any profit there, although he's invested millions.
But at least the land has served some purpose as a haven for his golfing habit and a challenge for protesters.