POTUS Apparently Put A Lot Of Thought Into The Stormy Daniels "Horseface" Insult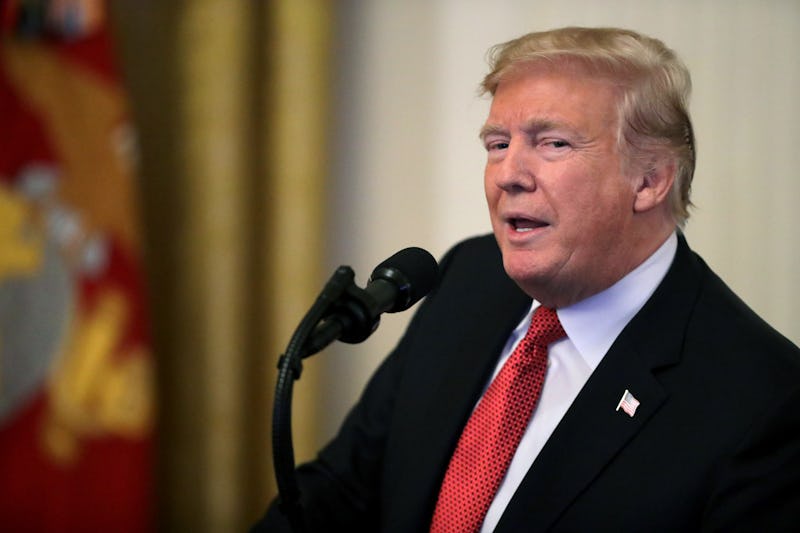 Chip Somodevilla/Getty Images News/Getty Images
America learned during the 2016 presidential campaign that Donald Trump has a penchant for attaching demeaning nicknames to his opponents. According to a new report, though, these nicknames don't always come about instantaneously. For example, Trump workshopped the "horseface" tweet about Stormy Daniels before sending it out on Tuesday, The Daily Beast reported.
"'Federal Judge throws out Stormy Danials lawsuit versus Trump. Trump is entitled to full legal fees.' @FoxNews Great, now I can go after Horseface and her 3rd rate lawyer in the Great State of Texas," Trump tweeted. "She will confirm the letter she signed! She knows nothing about me, a total con!"
While numerous White House officials expressed surprise at the president referring in that way to the woman who claims to have had an affair with Trump (which Trump has repeatedly denied), The Daily Beast reported that he actually tested out the new nickname in multiple conversations before including it in the tweet. In a process that he's used with previous nicknames, the president reportedly trotted it out with aides, friends, and even just acquaintances before publicly tweeting it. Through this workshopping, The Daily Beast reported, Trump came to believe that calling Daniels "horseface" was a good idea, strategically speaking.
The tweet provoked a significant reaction, so if that's the strategy that the president was aiming for, then he certainly succeeded. However, it drew criticism even from prominent Republicans, including from House Speaker Paul Ryan.
"There's no place for that. There's no place for that kind of language. He should not have said that," Ryan told CBS This Morning on Wednesday.
Michael Avenatti, Daniels' lawyer and a more frequent Trump critic, called the president a "disgusting misogynist" over the tweet. The New York Times also wrote that Debbie Walsh, the director of Rutgers University's Center for American Women and Politics, believed that the tweet could have an adverse effect in the upcoming midterms and in future elections.
"This rhetoric is the kind of thing that has turned off college-educated Republican women who voted for Trump in 2016, but have fallen away," Walsh told The Times. "You cannot continue to be a party in power if the voters that you are appealing to are white men over the age of 60."
Trump, however, defended himself over the "horseface" tweet, according to HuffPost.
"You know what? You can take it any way you want," Trump said to a reporter who asked whether the comment was appropriate.
"Did you see the letter? She put out a letter. I had nothing to do with her," Trump continued. "So she can lie and she can do whatever she wants to do. She can hire a phony lawyer. You take a look at this guy, a stone-cold loser. Take a look at his past."
Daniels, for her part, seemed to take the comment in stride — and the response she offered gave the president a taste of his own medicine.
"Ladies and Gentlemen, may I present your president. In addition to his...umm...shortcomings, he has demonstrated his incompetence, hatred of women and lack of self control on Twitter AGAIN!" Daniels tweeted on Tuesday. "And perhaps a penchant for bestiality. Game on, Tiny."