Trump's Justice Department Is Suing California For Trying To Protect Immigrants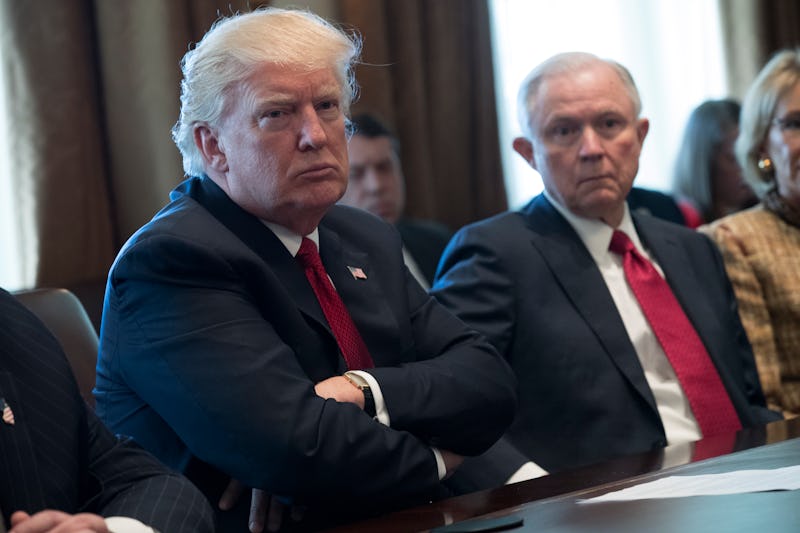 Pool/Getty Images News/Getty Images
On Tuesday, the president's administration officially filed a lawsuit in the Federal District Court in Sacramento, and the case that unfolds is going to be a big deal. Trump's Justice Department is suing California over immigration laws. More specifically, the lawsuit indicates that three California state laws passed in recent months have inhibited federal officials from enforcing federal immigration laws. The Justice Department has suggested that these sanctuary-oriented laws are unconstitutional.
Trump's Attorney General, Jeff Sessions, will travel to California on Wednesday to give a speech to law enforcement officials. According to Politico, Sessions' prepared remarks characterize California's current immigration laws as "unfair," saying:
The Department of Justice and the Trump administration are going to fight these unjust, unfair and unconstitutional policies that have been imposed on you ... I believe that we are going to win.
As Politico reported, in a conference call with reporters, California's Attorney General Xavier Becerra, denied that the state is perpetuating unconstitutional laws, noting:
We're following the Constitution and federal law ... We're doing nothing to intrude in the work of the federal government to do immigration enforcement. We recognize and respect that the federal government has authority over immigration enforcement.
According to the New York Times, California's governor, Jerry Brown, accused Sessions of engaging in a "political stunt" by filing the lawsuit. Brown tweeted criticism of the administration on Tuesday, saying, "At a time of unprecedented political turmoil, Jeff Sessions has come to California to further divide and polarize America. Jeff, these political stunts may be the norm in Washington, but they don't work here. SAD!!!"
According to The Guardian, the three laws that the administration is targeting in their lawsuit all serve slightly different purposes. One allows the state to inspect federal immigration detention centers. Another prohibits state/local immigration officials from telling federal officials when they plan to release an undocumented immigrant from their own custody. And the third bans private employers in the state from voluntarily cooperating with federal immigration officials. The paper noted that, in addition to filing suit over the laws, the Department of Justice also plans to acquire a court order to temporarily stop the state from enforcing these laws.
The state Senate leader in California, Kevin de León, heavily criticized Sessions in remarks made to Politico — and also implied that he liked the state's prospects for winning the lawsuit. As he told the outlet, "If U.S. Attorney General Jeff Sessions is suing California because we refuse to help the Trump administration tear apart honest, hard-working families, I say, 'Bring it on' ... Based on the U.S. Department of Justice's track record, I like our odds."
The State's Attorney general, Beccera, echoed similar sentiments to Politico and noted that California has already been successful in other legal fights against the Trump administration. As Becerra put it, "We've seen this B-rated movie before ... We're not doing their bidding on immigration enforcement and deportation ... We've had to deal with the Trump administration's attacks on our state for trying to engage in public safety and not have our resources commandeered to force us to do their bidding on immigration enforcement"
In contrast, Secretary of Homeland Security Kirstjen Nielsen lauded Sessions and the Department of Justice for filing suit, saying in a statement (as reported by Axios), "California has chosen to purposefully contradict the will and the responsibility of the Congress to protect our homeland .... I appreciate the efforts of Attorney General Sessions and the Department of Justice to uphold the rule of law and protect American communities."
According to CNN, the suit will constitute a test for the states, to see how much agency they ultimately have in protecting immigrants from federally-driven detection and deportation. As a result, many others states, in addition to California, will be closely watching to see how the suit unfolds.