Trump's Las Vegas Response Was An Abject Failure & This Tweet Will Show You Why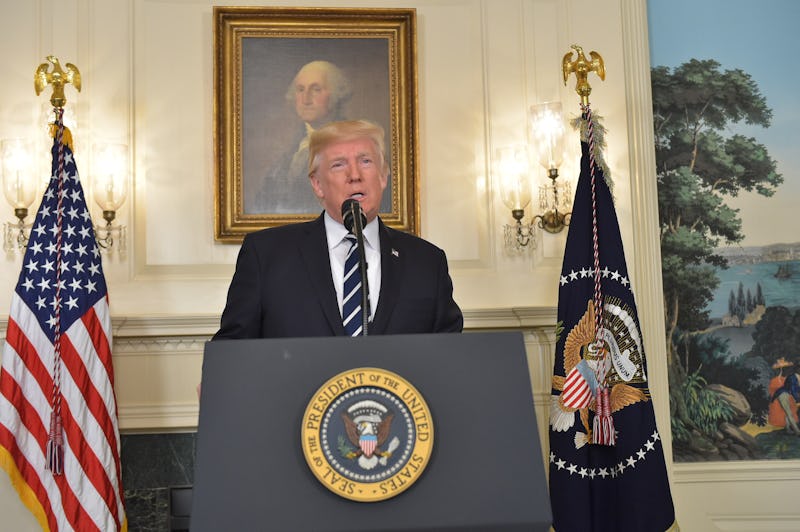 MANDEL NGAN/AFP/Getty Images
On Monday morning, the deadliest mass shooting in U.S. history rocked the nation: 50 people were killed and nearly 400 injured during the closing act of the three-day Route 91 Harvest Festival in Las Vegas. 64-year-old Stephen Paddock opened fire at the crowd of 22,000 people from the 32nd floor of the nearby hotel Mandalay Bay Resort and Casino. President Trump expressed his condolences hours after the tragic event occurred, saying, "In memory of the fallen, I'm directing that our great flag be flown at half-staff." In response, a tweet by Ryan Lizza about Trump's response to Vegas points out how ineffective it is for Trump to lower the flag when he could call for changes in gun legislation and actually prevent future attacks from happening.
"The main policy response to mass shootings is to lower the flag to half-staff," Lizza tweeted.
Lizza, a CNN political analyst and Washington correspondent for The New Yorker, also highlighted how common mass shootings were in the U.S. compared to any other developed country. There have been a total of 273 mass shootings in 2017, according to data from the Gun Violence Archive. There has even been another shooting since Vegas in Lawrence, Kansas, since Las Vegas: Three people were killed and two injured in a crowded intersection. The shooter has not yet been identified, according to ABC. While the U.S. accounts for 5 percent of the world's population, it accounts for 31 percent of all mass shootings and has more public shootings than any other country in the world, according to a study by the Harvard School of Public Health
Trump, who is the first sitting president to address the National Rifle Association (NRA) since Ronald Reagan, has promised the organization that he would "never infringe on the right of the people to bear arms," according to The Washington Post.
"You came through big for me, and I am going to come through for you," Trump told the NRA in April. "The eight-year assault on your Second Amendment freedoms has come to a crashing end."
The House could also pass two new pro-gun laws as early as this week. The Sportsmen Heritage and Recreational Enhancement Act would roll back on restrictions on gun silencers, which is currently regulated by the federal government, that would make it harder for police to locate a shooter in an attack and find out where the gunfire is coming from. The House is also expected to vote on legislation that would allow people to carry concealed weapons across state lines, according to the San Francisco Chronicle.
After the deadly attack at the Pulse nightclub in Orlando last year, which resulted in the deaths of 49 people, Trump said that having more guns "on the other side" could have prevented the tragedy and that he didn't advocate a ban on assault weapons, according to The Washington Times.
"Gun owners even more than ever need to be able to protect themselves," Trump said. "And by the way, if you had some guns in that club the night that this took place, if you had guns on the other side, you wouldn't have had the tragedy that you had."
Democrats including former Secretary of State Hillary Clinton, former Vice President Joe Biden, and Sen. Chris Murphy have urged lawmakers to implement stricter gun control laws.
"This must stop. It is positively infuriating that my colleagues in Congress are so afraid of the gun industry that they pretend there aren't public policy responses to this epidemic," Murphy said in a statement. "There are, and the thoughts and prayers of politicians are cruelly hollow if they are paired with continued legislative indifference. It's time for Congress to get off its a-- and do something."
Here are some ways you can help the victims in Las Vegas.