Trump & Putin Are Going Back & Forth On Whether They'll Actually Meet In Argentina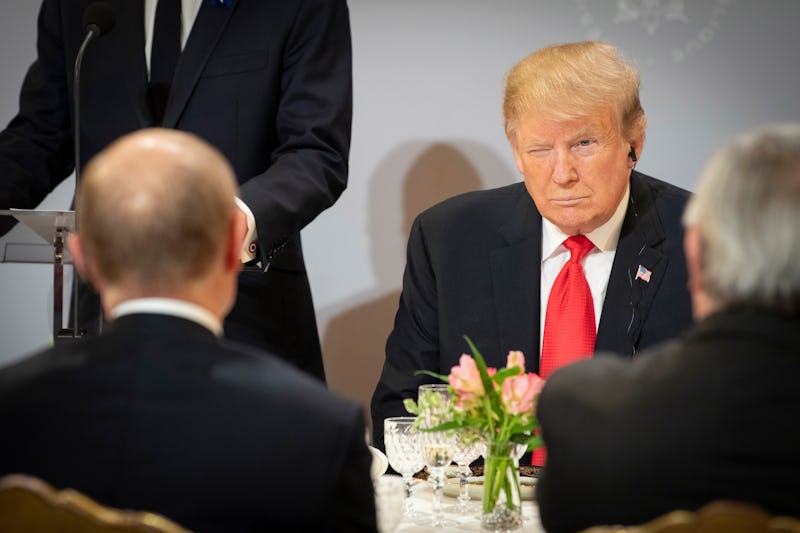 Handout/Getty Images News/Getty Images
Ties — or the lack thereof — to Russia have been a recurring theme of President Donald Trump's time in office, between his repeated claims of "no collusion" and his repeated one-on-one meetings with Russian President Vladimir Putin. Now, Trump's relationship with Putin is right back in the spotlight, as the Kremlin has now confirmed that Trump and Putin will meet in Argentina on the sidelines of the G20 summit.
UPDATE: Late Thursday morning, Trump tweeted that he has "decided it would be best for all parties concerned to cancel" the Argentina meeting with Putin due to "the fact that the ships and sailors have not been returned to Ukraine from Russia."
EARLIER: Trump threatened to cancel the G20 meeting with Putin in an interview with The Washington Post, citing Russia's military aggression against Ukraine in the Azov Sea as the potential reason.
"Maybe I won't have the meeting. Maybe I won't even have the meeting," Trump told The Post. "I don't like that aggression. I don't want that aggression at all."
The Kremlin confirmed on Thursday that the two leaders would be going ahead with the meeting, though, according to CNN.
"First of all, questions related to bilateral relations, we need to think about how to start talking on matters of bilateral relations, on matters of strategic security and disarmament and on regional conflicts," Kremlin spokesman Dmitry Peskov told journalists at a briefing. According to CNN, Peskov said that they had gotten confirmation from the White House, along with the full agenda of the meeting.
The Trump-Putin meeting will take place on Saturday morning local time, according to a document obtained by Reuters. According to Reuters' reporting, the two will discuss any number of issues in the approximately hour-long stretch of time budgeted for the meeting, including hot topics such as Syria, Iran, and North Korea.
The question on everyone's mind, however, will be whether Trump will bring up Ukraine in his meeting with Putin. As The New York Times wrote, Trump waited to give a response to the reports that Russia had seized multiple Ukrainian ships, and his response did not condemn Russia for its aggression.
"We do not like what's happening either way," Trump told reporters on Monday, according to The Times. "And hopefully it will get straightened out."
NATO, a military alliance that the United States belongs to but Ukraine does not, took a step beyond Trump in its statement on the matter, condemning Russia for its actions in Ukraine outright. Peskov's description of the upcoming meeting did not include any mention of Ukraine, according to CNN.
The last time Trump and Putin met one-on-one was for their July summit in Helsinki, which resulted in a lot of media criticism of Trump after the president seemed to defer to Putin's statements rather than the conclusions of his own national security apparatus, as Axios explained. In particular, Trump parroted Putin's denial of having meddled in the 2016 election, saying in Helsinki that he didn't "see any reason why it would be" Russia that meddled in the election, as The Times wrote at the time. He later had to walk this statement back after a strong wave of criticism from Washington, claiming that he meant to say that he didn't "see any reason why it wouldn't be Russia."
"Sort of a double negative," he said in July.
This meeting won't be such a big affair as the Helsinki summit was — but it's still notable that it's taking place, despite Trump's earlier threats to cancel it, and that the American public learned of it from a Kremlin announcement.