People Are Calling BS On Trump's New Middle Class Tax Break Promise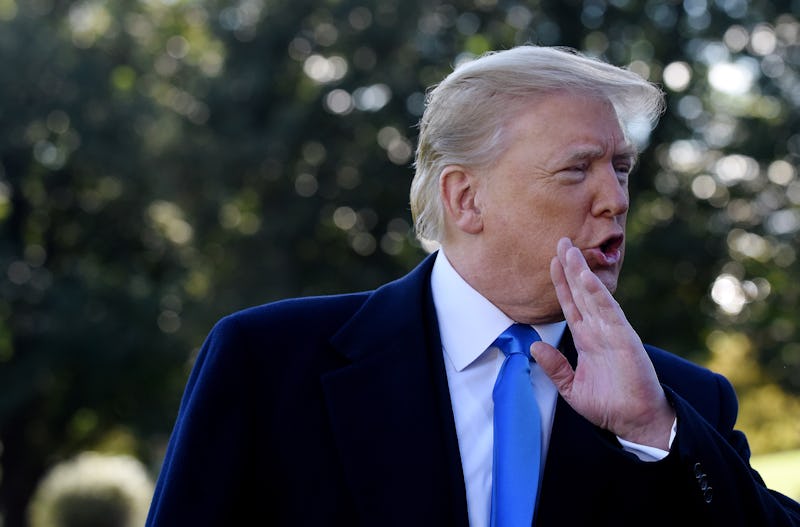 Pool/Getty Images News/Getty Images
The president left more than a few people stunned this weekend when he promised to deliver a new round of tax cuts before the midterm elections, which, in case you forgot, are slated to happen in less than three weeks. In fact, President Donald Trump's middle-class tax break is especially mystifying given the fact that Congress isn't even in session until the midterms are over.
"We are looking at putting in a very major tax cut for middle income people," Trump told reporters while in Nevada on Saturday, according to Axios. "And if we do that it will be sometime just prior to November."
The president went on to say that his administration was "studying very deeply right now, around the clock, a major tax cut for middle-income people." Trump stressed this tax cut was "not for business at all."
"Now, the last was for middle-income and for business and our business is now coming back because of it, but we are looking at— and Kevin Brady is working on it, Paul Ryan is working, we're all working on it," the president said.
And when asked to get specific about his timeline for that cut, the president said he was looking at "sometime around the first of November, maybe a little before then."
But the president did not elaborate as to what this "very major tax cut for middle-income people" might look like, meaning — as a number of news outlets have pointed out — that it's wholly unclear what he's talking about. What's more, when The Chicago Tribune attempted to ask Brady's office for details about what the Texas representative was reportedly working on with Trump and Ryan, they were deferred to the White House.
"There is continued interest in building on the success of the Tax Cuts and Jobs Act and constantly improving the tax code for hard-working families and America's small businesses," Rob Damschen, a spokesperson for Brady told the paper.
According to Bloomberg, "[Republican] party leaders were caught off-guard by Trump's comments." Treasury Secretary Steven Mnuchin, for example, was unable to speak to any details of the purported plan, despite having helped craft the president's 2017 tax plan, Bloomberg reported.
Moreover, it's hard to see how Trump expects to get this new tax cut in ahead of the midterms as the House is not currently in session and has no plans to reconvene until Nov. 13. Further dampening the prospect of putting a tax cut in place in less than two weeks is the fact that the Senate has shown little to no interest in moving on a tax bill passed by the House earlier this fall. As Vox noted, Trump's plan is "an essentially impossible feat."
But could Trump push a new tax cut through when Congress reconvenes after the midterms? According to CNN, "deep partisan divisions in Congress" make it "unlikely" that Republicans would be able to pass a new tax plan in the upcoming lame-duck session, casting further doubt and confusion on the president's remarks.