Trump Thanked Kanye In His NRA Speech For Giving Him A Boost With Black Voters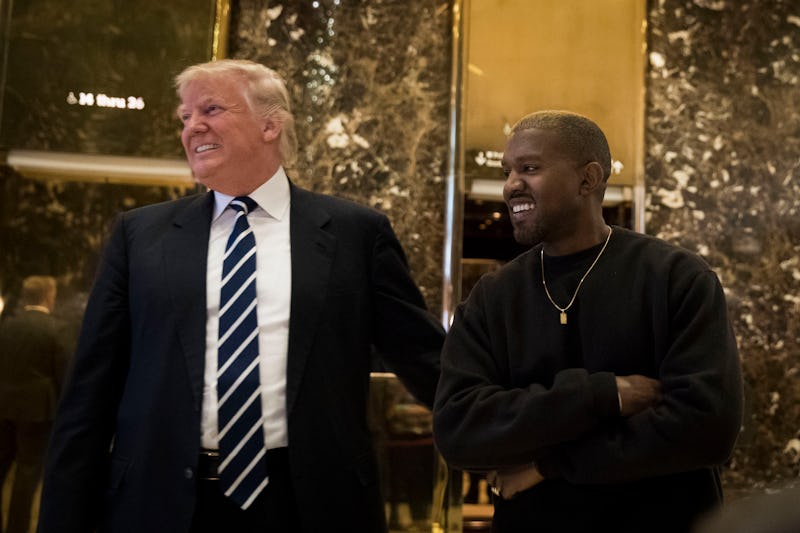 Drew Angerer/Getty Images News/Getty Images
Kanye West really does have power, at least according to President Donald Trump. While speaking Friday at a convention for the National Rifle Association (NRA), Trump thanked Kanye for supposedly boosting his approval rating among African Americans.
"Kanye West must have some power," President Trump told a crowd of NRA members at the organization's annual leadership convention in Dallas, Texas. "Because, you probably saw, I doubled my African American poll numbers. We went from 11 to 22 in one week. Thank you, Kanye, thank you."
The president is referring to a presidential approval rating poll conducted weekly by Reuters, which on April 29 — four days after West tweeted multiple times about his support for Trump — showed that 22 percent of black males approve of the job Trump is doing as president as of April. That number represents a significant jump from the 11 percent of black males who the poll recorded as approving of Trump's job performance the week before. Among African American women, Trump's approval rating jumped from 6 percent to 9.3 percent, according to that same Reuters poll.
But it seems like even Trump was a little shocked by Reuters' most recent numbers. "When I saw the number I said, 'that must be a mistake, how could that happen?'" Trump told the crowd Friday. "Even the pollsters thought there must be a mistake."
West expressed his support for Trump in a series of tweets April 25. "You don't have to agree with trump [sic] but the mob can't make me not love him," West tweeted. "We are both dragon energy. He is my brother." He later tweeted a photo of himself wearing a red "Make America Great Again" hat (which he later revealed had been signed by Trump himself.) Those tweets kicked up a frenzy of public and, if West's tweeted texts are any indication, private debate over the rapper's political affiliations.
A few days later West released a video in which he debates his eagerness to support Trump with rapper T.I. "Half the s**t Trump does, I don't agree with," West can be seen telling T.I. in the video. West then went on to clarify exactly what it was about Trump he did support: "Just the ability to do what no one said you can do, to do the impossible, is the most inspiring thing to me," West said in an apparent reference to Trump's presidential bid.
But while West is willing to sport his "Make America Great Again" hat around town and profess his support and admiration for Trump on Twitter, it seems he may not have actually voted for Trump. "I told you all I didn't vote, right? But if I would've voted, I would've voted for Trump," West told the crowd during a concert in San Jose, California, in November 2016.
Back at Friday's NRA's convention, the president appeared to falsely claim he'd had the support of African Americans during the 2016 election. "Democrats have always had their vote," Trump said in reference to African American voters. "I'd say, 'What do you have to lose? Horrible on crime, horrible on education, horrible on everything.' I'd say, 'What do you have to lose?' And they voted for me and we won." Yet, according to exit poll data compiled by the New York Times, only 8 percent of African Americans voted for Trump in the 2016 presidential election. In contrast, 88 percent voted for Democratic nominee Hillary Clinton.
It's also worth noting that other weekly tracking polls such as those conducted by the Economist/YouGov and Survey Monkey have not reflected an increase in Trump's approval rating among African Americans as the Reuters poll did. Still, Trump is clearly appreciative for West's repeated shoutouts.