Trump's Pick To Lead A Civil Rights Office Fought For Just The Opposite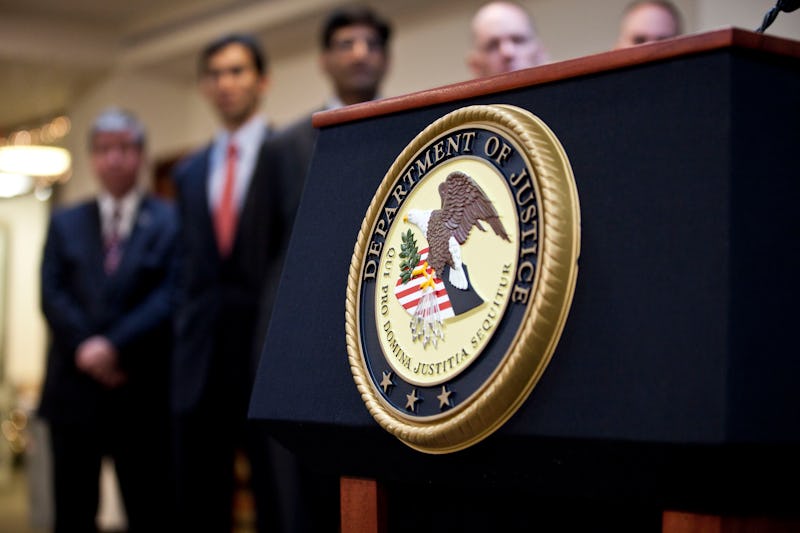 Ramin Talaie/Getty Images News/Getty Images
President Donald Trump recently nominated Eric Dreiband to lead the Civil Rights Division of the Department of Justice. Yet despite Dreiband having once served as general counsel of the U.S. Equal Employment Opportunity Commission (EEOC), various civil rights groups have voiced concerns over his private-sector work. According to multiple civil rights advocates, his history of defending businesses against discrimination lawsuits stands in direct opposition to the work of the Civil Rights Division.
"Whoever leads the 'crown jewel' of the Justice Department must have deep relationships with stakeholders and marginalized communities, and have a deep, abiding faith in our nation's civil rights laws," Vanita Gupta, who served as a head of the Civil Rights Division under former President Barack Obama, said in a statement to POLITICO.
Dreiband has a long history of defending private companies in court. In his highest-profile case — which took place after he completed his brief stint at the EEOC — Dreiband defended retailer Abercrombie & Fitch against allegations they had discriminated against a Muslim teenager by refusing to hire her because she wore a headscarf in front of the Supreme Court.
According to The Washington Post, Dreiband argued for Abercrombie that the woman had not informed the company that her headscarf was an expression of her religious belief. The court ruled 8-1 in favor of Drieband's former employer, the Equal Employment Opportunity Commission, which had sued on behalf of the Muslim teen.
Dreiband's resume with the law firm Jones Day also includes successfully defending tobacco company R.J. Reynolds in an age discrimination case in 2016 and Bloomberg in a pregnancy discrimination case in 2015. Currently he is defending the Washington Post in a case of age and race discrimination.
Critics argue Dreiband's history defending big businesses has cast some doubt as to whether he'll thoroughly enforce laws designed to prohibit discrimination be it in the workplace, at the ballot box, or happening at the hands of landlords or local authorities.
"The head of the Civil Rights Division must be an advocate for the most vulnerable among us — someone deeply committed to protecting the rights of all Americans," NAACP Legal Defense and Education Fund President and Director-Counsel Sherrilyn Ifill said in a statement Friday. "Eric Dreiband's civil rights record is the opposite."
Those who've worked with Dreiband, however, have said he's committed to civil rights laws. "He has incredible integrity, he's very bright and he really believes in the civil rights laws," Leslie Silverman, who served as vice chairman of the EEOC under Bush, told The Washington Post.
Before Dreiband can take charge at the Civil Rights Division his nomination must be confirmed by the Senate. It was unclear when a vote on the matter would be scheduled.