Trump Should Consider This Before Dissing Media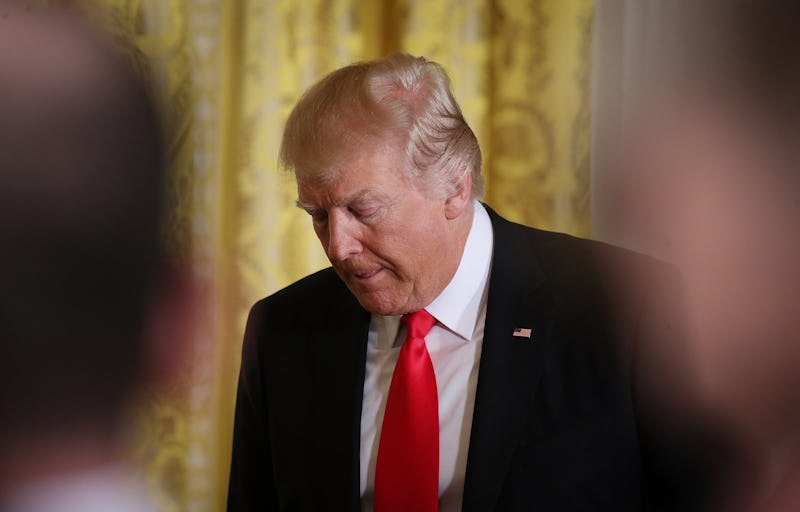 Mario Tama/Getty Images News/Getty Images
President Donald Trump held a 75-minute press conference on Thursday where he (predictably) disparaged media and the "fake news." But the president might have miscalculated; the media outlets Trump dissed at the press conference may actually be more popular with the general public than he is.
The president is well-known for calling CNN "fake news" — in fact, while answering a question from CNN's Senior White House correspondent, Jim Acosta, on Thursday, Trump went so far as to say he was revising his opinion of CNN being "fake news" to it being "very fake news." (And "just for the record," this was after Acosta took the time during the press conference to tell Trump, "we don't hate you. I don't hate you.")
But Trump wasn't the only one giving a press conference, even if he may have captured a larger share of news audiences. CNN Worldwide's president, Jeff Zucker, happened to be making at public statement at the same time to address whether Trump's portrayal of the news network is actually impacting CNN's credibility.
Zucker announced that he had ordered a brand study in January to see if Trump's "fake news" label for CNN had actually caused viewers to see the news network as less trustworthy, the Washington Post reported. Only 31 percent of the 2,000 Americans surveyed said they found CNN's coverage of Trump to be unfair, Zucker told the Post. Slightly more than half of the people surveyed said they found CNN trustworthy, which was reportedly "well above" the number of people who trust Trump, or even members of Congress scored, the Post reported.
The news network's study contrasts an Emerson College poll Trump shared on Twitter. The poll shows that 49 percent of voters consider the Trump administration to be truthful, while 48 percent consider it untruthful. On the other hand, 53 percent of voters found the news media to be untruthful, while 39 percent find them truthful, according to the poll.
It's hard to say what caused the difference between the results of the two polls, but it is true that Trump has been making some statements about CNN's ratings that are not true. The president called CNN's ratings low in comparison to other networks, which isn't necessarily true. The network's ratings have actually been rising since Trump began publicly dissing it, the Washington Post reported.
Still, CNN's employees and reporters "wear those insults as a badge of honor, because it means they are doing their jobs," Zucker told Politico. "I would say that morale is incredibly high ... They are not being intimidated, they are not backing down, they know they have my full support and it is a very exciting time, frankly, to be a journalist at CNN." It certainly must be, with the president publicly opposing their work.