This One Tweet Calls Out The Huge Difference Between Trump's Response To Las Vegas & NYC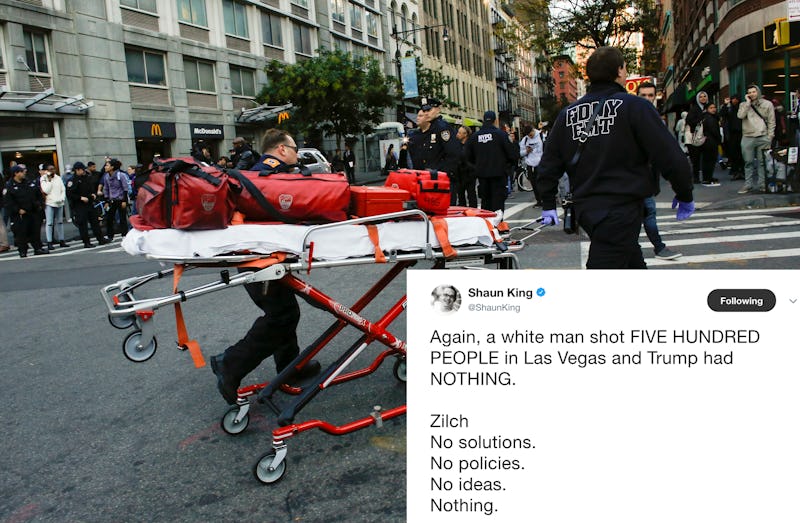 Kena Betancur/Getty Images/Twitter
After it was revealed an Uzbekistan native legally living in the U.S. was allegedly responsible for the attack in New York City on Tuesday, President Trump wasted no time calling for an end to lottery-based visas and a strengthened vetting process. While the commander-in-chief responding to a terror attack on U.S. soil is far from unusual, many noted how drastically different his reaction was compared to his comments after the mass shooting in Las Vegas exactly one month ago. The difference between Trump's responses to Las Vegas and New York show what type of terrorism he thinks requires a policy response — and what type requires only thoughts and prayers.
ON Tuesday afternoon, a truck authorities believe was driven by a 29-year-old man with a diversity visa plowed into a bike path, killing eight and injuring 11; it was the deadliest terror attack in NYC since 9/11. The same night, President Trump tweeted that he had ordered Homeland Security to "step up our already Extreme Vetting Program," adding, "Being politically correct is fine, but not for this!" Additionally, the next morning, he called for the diversity visa program to be replaced with "merit based" immigration. "No more Democrat Lottery System," he said. "We must get MUCH tougher (and smarter)."
But Twitter was quick to ask, where was this sense of immediate action when a white American citizen shot and killed 58 people at a music festival, leaving more than 500 others wounded?
The main focus of Trump's response to the events in New York was the Diversity Immigrant Visa Program that allowed the suspect into the country in 2010. The program is run like a lottery, granting visas to 50,000 people from countries with low immigration rates to the U.S., including Uzbekistan. There is a two-year vetting process in place, and applicants must prove they don't have a criminal record.
President Trump wants the program cancelled, a desire he vocalized before the attack as part of his proposed immigration reform. A terror attack by a foreign national in America on a diversity visa was an opportune time for Trump to once again call for its cancelation, as well as a strengthened vetting process by Homeland Security.
But while President Trump tweeted about immigration immediately after the attack in New York City, he waited until the following morning to respond to the country's deadliest mass shooting in history. The morning after dozens lost their lives in Las Vegas, he wrote:
My warmest condolences and sympathies to the victims and families of the terrible Las Vegas shooting. God bless you!
In fact, that's the only thing he tweeted in the first 24 hours following the shooting. In response to the attack in New York, however, he tweeted seven times in the same time period.
Democratic politicians were quick to point out that the substance of the president's responses were vastly different, as well. In a speech following the Las Vegas tragedy, Trump repeatedly said the shooting could have been worse and thanked law enforcement for their work. He didn't comment on the shooter's identity or status as an American citizen, nor did he call for gun reform.
The day after the shooting, White House press secretary Sarah Huckabee Sanders told the nation, "There's a time and place for a political debate, but now is the time to unite as a country."
Sens. Chris Murphy and Chuck Schumer took issue with the Trump administration not wanting to politicize a domestic terror attack carried out by a white American citizen, and then a month later proposing policy changes within 24 hours of an immigrant allegedly carrying out an attack.
Congress has yet to propose legislation restricting the sale of bump stocks, which the Las Vegas shooter used to fire semi-automatic guns more quickly. Time will tell if more immediate immigration policy changes are made, as President Trump proposed.