The Trump Admin Will Speed Up Its Process To Reunite Migrant Families It Tore Apart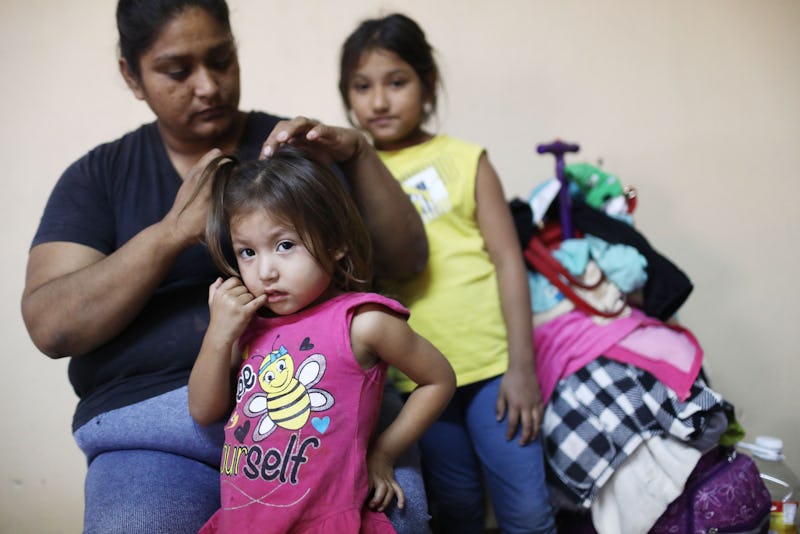 Mario Tama/Getty Images News/Getty Images
The Trump administration said Friday it would truncate its process of identifying and vetting migrant parents in an effort to speed up its plan to reunite thousands of migrant families it had separated at the border earlier this year. But officials have warned that abiding by court orders to expedite reunifications by forgoing several steps in the process could jeopardize the children's safety. The Department of Health and Human Services, which currently has 2,551 separated migrant children ages 5 to 17 in its custody, has been ordered by a federal judge to reunite all of the children with their parents by July 26.
Trump administration officials issued a stark warning alongside court documents outlining their plans to return up to 200 migrant children to their parents a day, cautioning that such an expedited process could compromise the children's safety. In their warning, officials cited a federal judge's orders to skip fingerprinting, DNA testing, and background checks of all migrant children, adults, and residents in the homes where the children would potentially live as being potentially problematic. They warned that as many as 175 migrant children could, as a result of the court-ordered truncated process, be reunited with adults who are not their biological parents.
In a statement filed Friday alongside the administration's plans for expedited reunification, Chris Meekins, the chief of staff at the Office of the Assistant Secretary for Preparedness and Response, said "feaster reunifications" could result in children being placed in "potentially abusive environments," The Washington Post reported.
Other HHS officials have also cautioned against forgoing vetting measures in an effort to expedite the reunification process. "HHS believes strongly in the importance of vetting processes, given that more than 20 percent of minors separated in the under 5 years old class were ineligible for reunification due to adults' not being a parent, having serious criminal histories, or other safety issues," an HHS official told Politico's PULSE.
According to The Washington Post, Justice Department officials had said that roughly 45 of 103 migrant children age 5 and younger could ultimately not be placed due to safety concerns or because their parent's had been deported or placed in criminal custody. A federal judge had previously ordered the Trump administration reunited all migrant children under the age of 5 with their parents by last Tuesday.
Deputy Secretary of HHS Eric D. Hargan broke down those roughly 45 cases on Twitter, noting that safety concerns prevented reunification in 22 cases. A total of 11 adults slated to be reunited with children were found to have what HHS deemed "serious criminal charged and convictions," including kidnapping, child cruelty, sexual assault, and domestic violence.
The administration is believed to have separated more than 2,600 migrant children from their parents as a result of the president's "zero-tolerance" immigration policy. Officials have previously touted the policy of separating families at the border as an effort to deter illegal border crossings. Immigration advocates, however, have characterized the policy as "inhumane" and "tragic".
In this case, advocates argued that the Trump administration's initial process of conducting DNA testing, fingerprinting, and background checks on every child and adult was creating delays in the reunification process. According to The Washington Post, they'd argued in court that such intensive vetting had previously only been done when there were concerns about safety or parentage.
A federal judge appeared to agree with advocates and ordered the Trump administration to skip such testing unless safety concerns merited it. He claimed such in-depth vetting measures were designed more for situations where non-parent sponsors applied to take over the care of migrant children who crossed the border unaccompanied. The judge also argued that authorities should easily be able to verify parentage via documentation or observation.
Still, it remains unclear exactly what will happen to migrant children and their parents once they're reunited, including whether or not they'll be able to stay together in the long term. While the Trump administration has previously called for migrant families to be detained together, federal courts have rejected that proposal, ruling that children cannot be held in detention facilities for more than 20 days.