Trump Broke A Record With His State Of The Union (On His Favorite Website)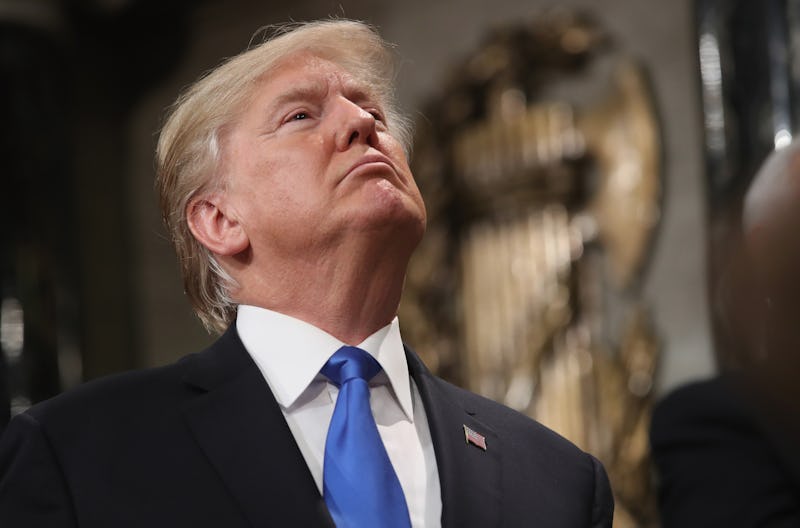 Win McNamee/Getty Images News/Getty Images
It seems fitting that President Trump would break Twitter. After years of Twitter spats and angry rambling, Trump's State of the Union hit a Twitter record as the most tweeted #SOTU address or joint session ever.
The Twitter Government and Elections team, which keeps a running update on all government-related Twitter analytics, announced that Trump's first State of the Union speech broke the record less than an hour into the address. It has since raked in a total of 4.5 million tweets (and counting), surpassing the previous record holder, which was Trump's 2017 joint session address. The 2017 address brought in 3 million tweets. Note that the Twitter figures may also include tweets made by automated bots.
The usual hashtags like #MAGA, #DrainTheSwamp, and #ReleaseTheMemo were popular among Trump supporters, while #Resist and #ImpeachTrump were popular among Trump critics. Trump wasn't the only person up for discussion, either. Twitter users also tweeted about former President Obama, House Speaker Paul Ryan, and Minority Leader Nancy Pelosi during Trump's State of the Union address.
Trump's tweet to join him for his State of the Union address was the most retweeted #SOTU tweet. It's unclear how many tweets came from actual users and how many came from bots. Twitter revealed that Russian-linked Twitter bots retweeted Trump almost half a million times in the final months leading up to the 2016 election.
Twitter Government also presented which moments during #SOTU which got the most Twitter activity. The top tweeted moment in Trump's State of the Union address came when he announced, "We stand for the national anthem." The next most tweeted moments came when Trump discussed immigration reform proposals (which isn't surprising considering that Trump focused on immigration for the bulk of his address) and when when he honored the parents of MS-13 gang victims.
Trump began with an emotional story about how undocumented immigrants in the transnational MS-13 gang murdered two Latino teenagers. Their parents were among the president's invited guests at the State of the Union event. Cameras showed the parents were in tears as Trump paid tribute to their harrowing experience.
"Many of these gang members took advantage of glaring loopholes in our laws to enter the country as illegal, unaccompanied alien minors — and wound up in Kayla and Nisa's high school," Trump said in his speech, referring to the parents' children. His story echoes a graphic tale he told at rally this past summer about how undocumented, criminal immigrants "slice" and "dice" young girls.
"We have sent thousands and thousands and thousands of MS-13 horrible people out of this country or into our prisons," Trump claimed at his State of the Union address — an inaccurate claim that contradicts what Attorney General Jeff Sessions said earlier this week.
People also took to Twitter to comment on Trump's path to citizenship plan for up 1.8 million DACA recipients, or "Dreamers," who were brought to the country illegally as minors. His statement lines up with his past remarks on the DACA program — Dreamers can stay, as long as America builds that border wall. Along with reiterating his plan to build a taxpayer-funded wall between the United States and Mexico, Trump also said he intended to end the visa lottery.
The Twitter community was hotly divided as per normal when it comes to Trump, but CBS reported the response to Trump's first State of the Union address swayed in his favor. About 75 percent of #SOTU viewers approved of Trump's State of the Union speech, according to a CBS survey of 1,178 interviews. The viewer breakdown of those interviewed consisted of 42 percent Republican, 25 percent Democrat, and 33 percent Independent.