Trump Is Dropping The United States' Demand For Women's Rights In Afghanistan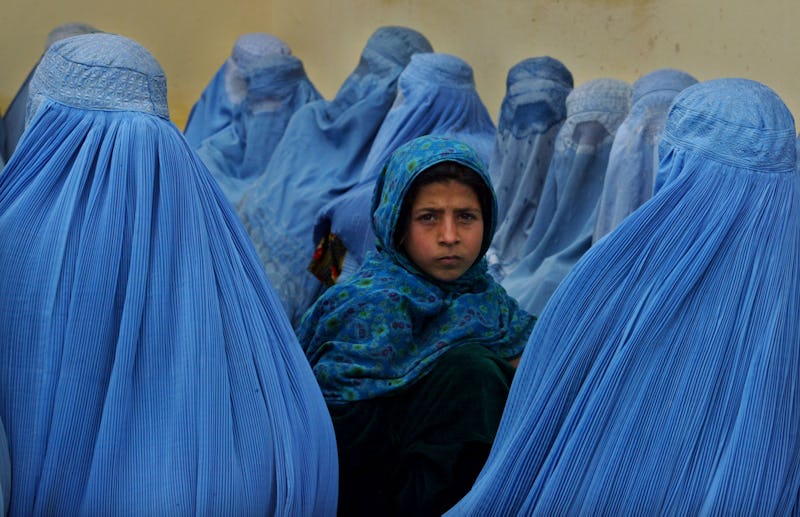 Paula Bronstein/Getty Images News/Getty Images
On Monday night, President Donald Trump delivered a speech on his new strategy for the war in Afghanistan, the broad strokes of which sounded almost exactly like the current war in Afghanistan. One day later, however, Secretary of State Rex Tillerson revealed one concrete concession the administration is willing to make in peace negotiations with the Taliban. Namely, women's rights won't be demanded in Taliban negotiations going forward, a shift from demands that were made by the Obama administration.
Throughout the Obama presidency, the question of respect for women's rights was a major sticking point in attempts to negotiate peace between the Taliban, the Afghan government, and the United States. According to multiple reports from journalists in attendance, however, Tillerson said Tuesday that the U.S. government would not make women's rights a condition of the talks ― rather, he reportedly said that the U.S. would not dictate such outcomes, and tied that decision to Trump's stance against "nation building."
"The government of Afghanistan and the Taliban representatives need to sit down and sort this out," Tillerson said, according to The Washington Examiner. "It's not for the U.S. to tell them it must be this particular model, it must be under these conditions, and I think that's what the president means when he says we're no longer nation-building."
This news comes the same day as reports that Trump was at least partially sold on continuing the Afghanistan war by National Security Adviser H.R. McMaster, who reportedly showed Trump a photo of Afghan women wearing skirts in Kabul in 1972, prior to the ascension of the Taliban. A fundamentalist and extremist Islamic theocratic regime, the Taliban took power in Afghanistan in 1996 and immediately imposed a strict code of dress and behavior for Afghan women and girls, with brutal consequences for disobedience.
The fate of women under a negotiated peace agreement with the U.S. has long been one of the most worrisome details of what a post-war Afghanistan might look like. Many women's rights advocates rightly fear the re-imposition of the Taliban's previous, brutally oppressive system, all while the clear ways to finally end the longest war in American history seem to dwindle.
In short, Tillerson's remarks are a tacit acknowledgment that negotiating with the Taliban, however grisly and oppressive a group it might be, is one of the only coherent paths forward to finally ending the war.
As it stands now, the U.S. war in Afghanistan is the longest in the country's history, having already spanned nearly 16 years across both Republican and Democratic administrations. Former president Barack Obama, in particular, pledged during his 2012 reelection campaign that he'd end the war in Afghanistan by the end of 2014, in what stands as arguably his biggest broken promise in his two terms in office.