People Are Roasting Trump For His 2012 Tweet About Obama's Chiefs Of Staff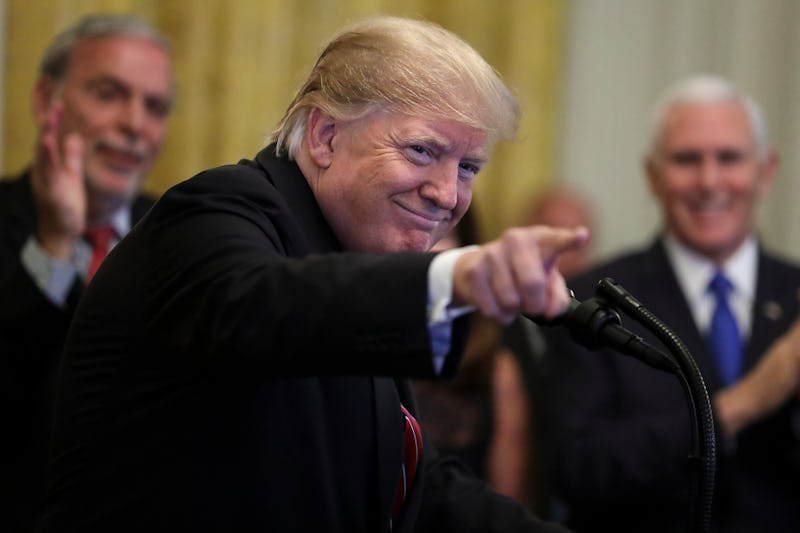 Pool/Getty Images News/Getty Images
It's been said that there's a Trump tweet for everything, and with nearly 40,000 tweets posted to his account, I do mean literally everything. The latest edition of Trump's Twitter history coming back to haunt him as president takes us back six years, to a time when Donald Trump often used his favorite social media platform to criticize former President Barack Obama. Indeed, Trump's 2012 tweet about Obama's chiefs of staff is getting him roasted on Twitter in light of John Kelly's recent dismissal.
Reports that Jack Lew would replace Bill Daley as Obama's chief of staff in January 2012 spurred Trump to take to Twitter to bemoan what he appeared to imply was an ineffective revolving door of White House senior staff. "[Three] Chief of Staffs [sic] in less than 3 years of being President," Trump tweeted on Jan. 10, 2012. "Part of the reason why @BarackObama can't manage to pass his agenda."
While Obama's first presidential term did see a high rate of turnover for the position of White House chief of staff, Trump's tweet is more than a little ironic as he appears to be going through chiefs of staff just as fast, if not faster, than his predecessor. Trump announced Saturday that Kelly, his second White House chief of staff, would leave before the year was over. Reince Priebus, Trump's first White House chief of staff, lasted only about six months in the position before getting the boot.
In his eight years as president, Obama officially had four chiefs of staff, three of whom served during his first term. It's worth noting, however, that Pete Rouse did serve under Obama as an interim White House chief of staff for a little more than three months. In fact, Trump is counting Rouse — whose tenure was meant to be temporary from the get go — in his tweet criticizing Obama's multiple chiefs of staff.
But while Trump announced the departure of his second chief of staff some 686 days into his presidency, at that same point in his own presidency, Obama had only just begun working with Rouse after saying goodbye to Rahm Emanuel, his first chief of staff.
Indeed, while Priebus' tenure as Trump's first White House chief of staff ended just 190 days after he'd officially taken office, Emanuel served a total of 627 days.
A number of Twitter users roasted the president for his previous criticism after Trump announced Kelly's departure on Saturday. "This sure didn't age well," one user wrote.
But Trump isn't seeing high turnover in just the position of White House chief of staff. Since taking office, a number of Trump administration officials have left or been ousted.
In fact, in a paper published earlier this year, Kathryn Dunn Tenpas, a nonresident senior fellow at the Brookings Institution who has spent decades tracking White House turnover rates, found that the Trump administration had a "record-setting" turnover rate. According to Tenpas, Trump's first year in office had a staff turnover rate higher than the last five presidential administrations.