Here's Why Trump Doesn't Have Any Big Veterans Day Plans For Monday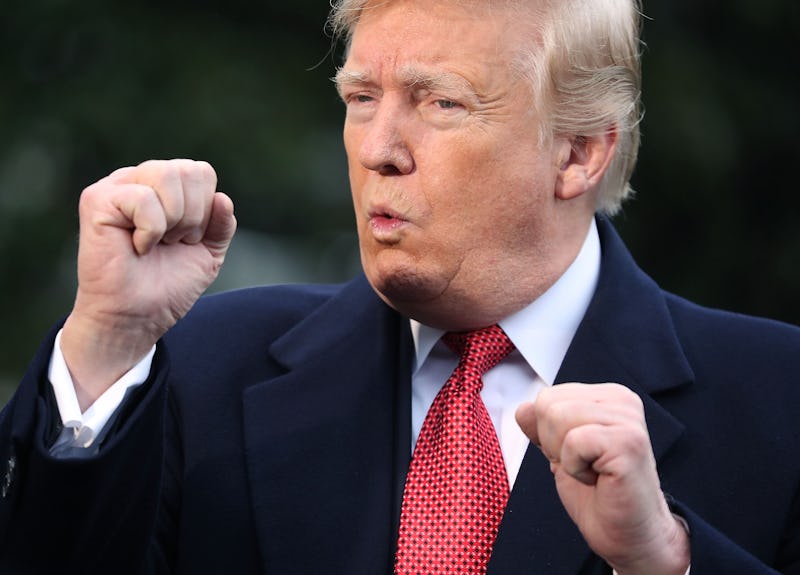 Mark Wilson/Getty Images News/Getty Images
Veterans Day is an important opportunity every year to honor the living men and women who served in America's armed forces, either in war zones or otherwise. As the commander-in-chief, the serving president always takes part in events celebrating America's veterans in one way or anything. President Donald Trump's Veterans Day plans, however, are pretty quiet for Monday — but there's a sensible explanation for that.
"A lid at 10 AM. Trump will have no movements today, per White House," Washington Post reporter Josh Dawsey tweeted Monday morning, referring to Trump's plans for observed Veterans Day. Bustle has also reached out to the White House for comment.
Trump's decision not to take part in any activities honoring veterans on Monday provoked some anger on Twitter, especially after Raw Story reported that he would not be visiting Arlington National Cemetery. If he had gone to the cemetery on Monday, however, he still would have missed out on the official Veterans Day ceremony at the cemetery — because that happened on Sunday, Nov. 11.
Many American holidays are tied to days of the month rather than dates — think Labor Day, which is celebrated every year on the first Monday in September, or Thanksgiving Day, which is always the fourth Thursday in November.
There is always a federal holiday to celebrate Veterans Day in the calendar, but it's tied to the date of Nov. 11 rather than a specific day in the month of November. According to The Washington Post, this is because Veterans Day originated in a slightly different celebration: Armistice Day, the day that celebrated the end of World War I. "The Great War," as World War I was known before World War II took place, ended at the 11th hour on the 11th day of the 11th month, as the Post explained. Even now, Veterans Day commemorations often start at 11 in the morning — including the National Veterans Day Ceremony at Arlington National Cemetery outside of Washington D.C., according to the Department of Veterans Affairs (VA).
While presidents usually do attend those ceremonies for Veterans Day, Trump did not on Sunday — but there was a very good reason for that. While Monday, Nov. 12, is the official Veterans Day federal holiday, the celebrations and commemorations actually took place on Sunday, Nov. 11, and Trump had another very important ceremony to attend.
Trump wasn't at the ceremony in Arlington, because he was in Paris, honoring the 100th anniversary of the end of World War I, as CNN explained. Numerous world leaders gathered in Paris for the celebration, with French President Emmanual Macron leading the event. According to CNN, Trump took part in the main ceremony on Sunday at the Arc de Triomphe and then gave a speech at the Suresnes American Cemetery just outside of Paris.
He did draw pointed criticism, however, for his decision not to attend the larger ceremony at the Aisne-Marne American Cemetery on Saturday because of "scheduling and logistical difficulties caused by the weather." According to The Washington Post, that single cemetery honors more than 3,000 Americans who lost their lives in World War I. CNN wrote that the rest of Trump's plans for Sunday involved coming back from Paris — once all of the American Veterans Day celebrations had already passed.