The Yanny Vs. Laurel Debate Rages On In Fans' Tweets About Chrissy Teigen's New Baby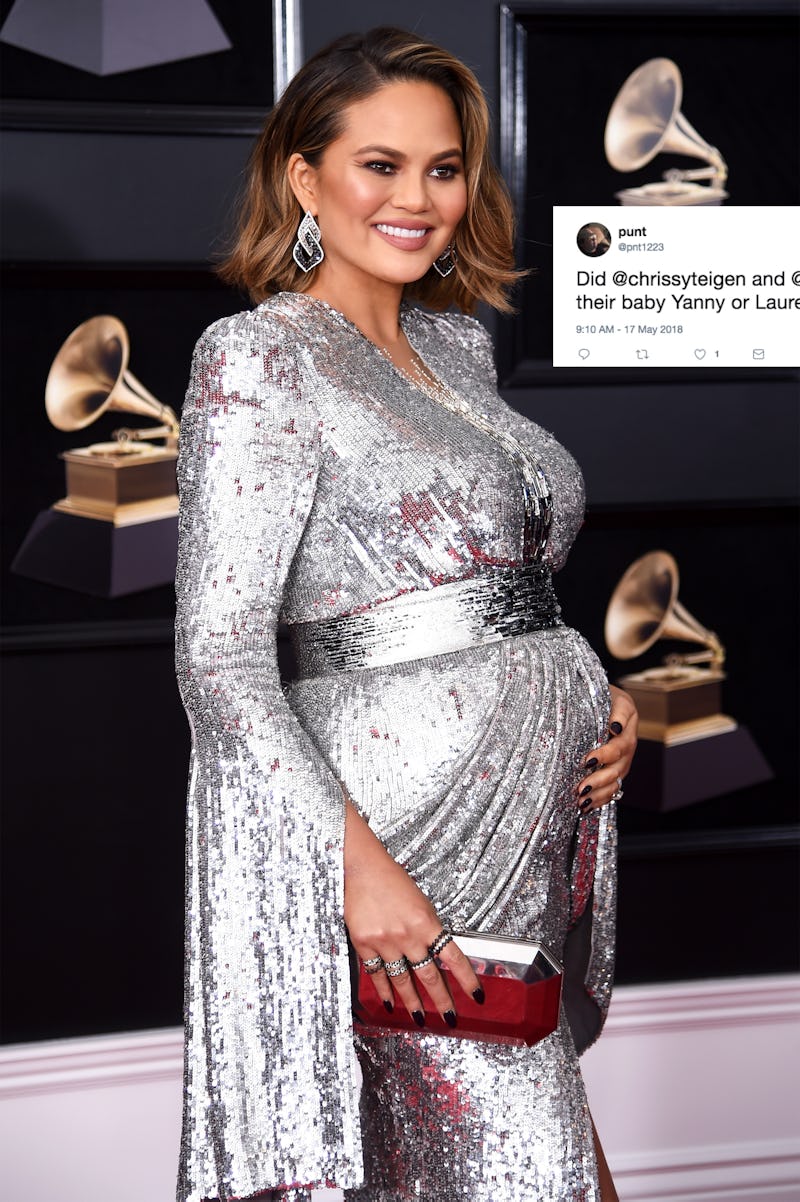 Dimitrios Kambouris/Getty Images Entertainment/Getty Images; pnt1223/Twitter
Around 1:30 a.m. on Thursday, news broke that Chrissy Teigen and John Legend welcomed a baby boy, and people online are already speculating about his name with two clear frontrunners. The Lip Sync Battle co-host played an active part in the fierce Yanny vs. Laurel debate that happened online earlier this week — she was Team Laurel all the way — and now her followers have been jokingly debating whether Teigen's new baby name is Yanny or Laurel. (For the record, she has yet to reveal the child's actual name.)
On Tuesday, Teigen tweeted about the clip circulating of a robot speaking that left users divided on whether it was saying one name or the other. "it's so clearly laurel. I can't even figure out how one would hear yanny," she wrote. When comedian Ike Barinholtz of Blockers replied, tweeting that he only heard Yanny, Teigen stood firm, writing, "I feel like yannies are LYING FOR ATTENTION".
Teigen even asked her parents what they thought and tweeted the results, which yielded no further insight, as her dad heard neither and her mom said she heard "rural." Eventually, though, the cookbook author waived the white flag, and declared that she was muting both words, in various spellings for good measure.
When Teigen tweeted the news that she'd given birth, writing, "Somebody's herrrrrrre!" with a few baby bottle and smiling emojis, she did not mention the baby's name. Thus, the online guessing game began, resurrecting the dispute that took the internet by storm.
One fan @meressadawn wrote, "@chrissyteigen Congratulations! Can you share his name? Is it Yanny Legend or Laurel Legend?? It's sooo Laurel right??" with a winking emoji, and @OkiNicHoe tweeted at Teigen, joking, "'My name is Yanny, but you pronounce it Laurel.'"
Meanwhile, @Anniiphan found a compromise between the two, and tweeted, "has Chrissy Teigen decided on a name for her baby boy yet? I hope it's Laurel Yanni Legend," and @ndimichino offered another variation, writing, "Yanni Laurel Teigen, beautiful name!"
As for the baby's real name, during an appearance on The Ellen DeGeneres Show in February, Teigen said she still hadn't decided. "Boy names are tough," she told the talk show host. "I don't even think he'll have a middle name 'cause we can't even think of a first name."
When she was choosing a name for her 2-year-old daughter Luna, Teigen said she was inspired by the sight of a blood moon and her love for space, but that this time around it had been harder to pick. "I've been toying with Dick Legend a lot," Teigen said. "Can we say that? Richard Legend."
She also mentioned that she had considered naming the baby after his father John, but that Legend was concerned about the pressure that might put on their son. "John and his ego, he was like, 'You know, I don't want him to feel like he has to live up to that,' and I was like, 'Wow, you are a jerk,'" Teigen joked.
With or without being set on a name, Teigen, who is known for her candor on-and-offline, let her followers know last week that she was more than ready to give birth.
She tweeted on May 9, "happy pregnant Chrissy is gone. meet OVER IT Chrissy. Wanna hold my boy let's do thisssssss," and when a fan replied that it seemed the star had been pregnant "for 3 years," Teigen then reponded, "It feels worse for me because with IVF you know *so* early. I mean I knew I was pregnant at 11 days in. Crazy."
Now that their baby boy is here, fans will have to wait to learn what name the couple chose, but in the meantime they can cast their vote for Yanny or Laurel online.