14 Tweets About Hugh Hefner Reflect His Complex Legacy On Women's Sexuality & Civil Rights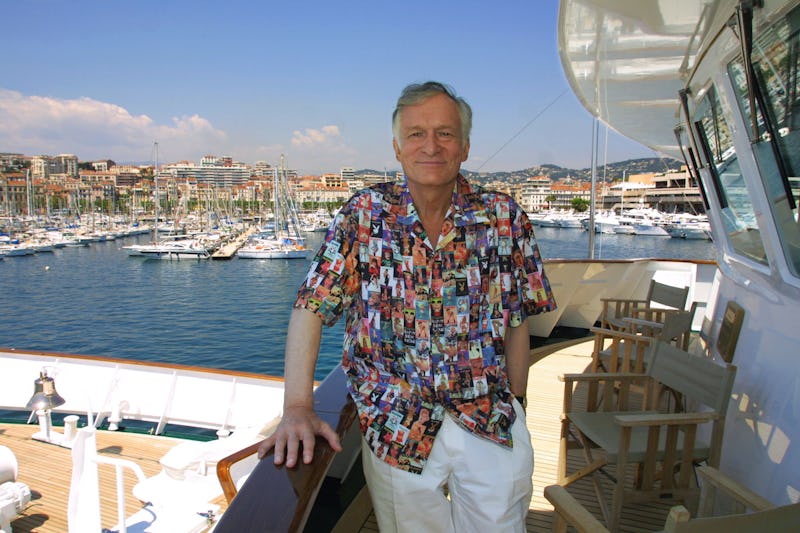 GERARD JULIEN/AFP/Getty Images
You probably know Hugh Hefner, who passed away Wednesday at the age of 91, as the founder of the Playboy empire and a target of the most famous 20th-century feminists. But did you know that he was also a celebrated civil rights leader? Or an animal lover? Have you considered how he was actually a big part of America's sexual revolution, someone who helped break down the barriers constricting much of society? He was a man of one face — the ultimate playboy — among other faces. Above all, he was a complex figure, and now there are thousands of tweets about Hugh Hefner that reflect his complicated legacy.
Hefner was many things to many people, and those who met him personally have shared their memories of his kindness and warm spirit. And while it's undeniable that Playboy magazine fostered a culture that many felt degraded women, reducing them to their bodies and sex objects, Playboy was also on the very front lines of the culture wars for decades, promoting movements that progressives still embrace like civil rights, sexual freedom, and LGBTQ equality. Hefner welcomed African-Americans into his media empire when others did not, and even contributed funding to the development of the United States' first rape kit.
Basically, this isn't a person whose life and achievements can be summed up in one tweet — and that's why there are so many, coming from so many different angles. Here are just a few of them.