Twitter Couldn't Be More Thrilled With Idris Elba Being Crowned People's Sexiest Man Alive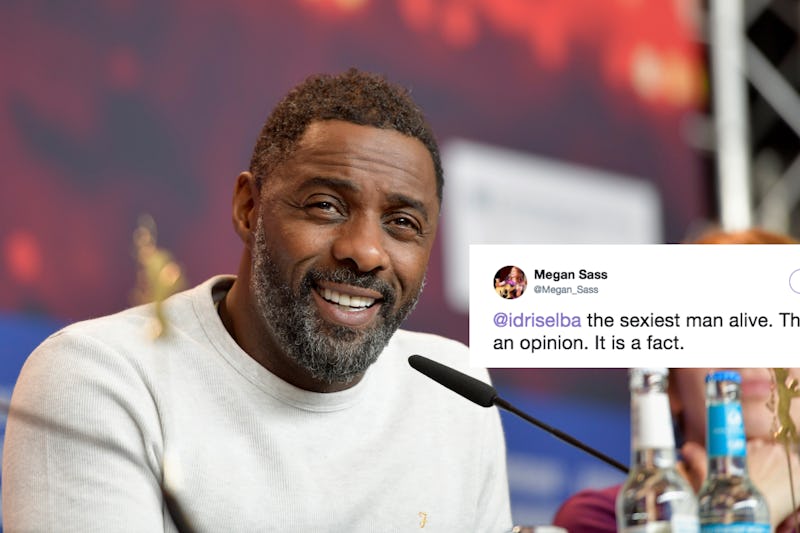 Thomas Lohnes/Getty Images Entertainment/Getty Images; Megan_Sass/Twitter
Idris Elba was crowned as People's Sexiest Man Alive for 2018, and just based on the reactions on Twitter, people are more than pleased with the pick. In fact, there were so many tweets about Idris Elba's People's Sexiest Man Alive honor that you'd be hard pressed to find anyone who wasn't into People's choice.
The exciting news as announced on The Tonight Show Starring Jimmy Fallon, in which the official cover was debuted. Host Jimmy Fallon also saw fit to put Elba's sexiness to the test, as he asked him to do his best smolder and sweet looks (which he aced, of course). Naturally, the actor also discussed the honor in the latest issue of People, where he spoke about what it felt like to receive the special title. He said,
"I was like, 'Come on, no way. Really?' Looked in the mirror, I checked myself out. I was like, 'Yeah, you are kind of sexy today.' But to be honest, it was just a nice feeling. It was a nice surprise — an ego boost for sure."
But what does everyone else have to say about the reigning Sexiest Man Alive? Well, as always, Twitter had some thoughts.
All In Agreement
As one Twitter user said, everyone is pretty much in agreement that Elba was the best choice for People's Sexiest Man Alive. So, at least everyone can agree on one thing.
Bringing It Back To The Office
Another person posted a certain GIF from Elba's time on The Office (in which he played Charles Miner) to joke about what the actor's possible reaction to this latest honor. His character can be seen saying, "I am aware of the effect I have on women." Yep, A+ GIF usage here.
"We Been Knew"
Many joked that people have long known that Elba has deserved the Sexiest Man Alive title and that People is just playing a bit of catch-up.
Gotta Buy People
If the response to the Elba pick on Twitter is any indication, there are many that are probably dying to get their hands on a copy of People right about now.
Hopeful
Another user joked about how Elba's win this year (after Blake Shelton won the title last year, which Twitter wasn't exactly feeling) actually gives them hope for things turning out well for Election Day, too.
A Straight-Up Fact
One user said that it's a "fact" that Elba is the Sexiest Man Alive, and honestly, there are no lies detected there.
"Duh"
Yep, everyone's known for a long time now that Elba was definitely deserving of his title.
Everyone Can Agree
Just to be clear, everyone can agree on this choice, because come on, it's Idris Elba.
No Room For Wrong Opinions
Like one Twitter user joked, if you don't agree with People's pick, sorry, but you're wrong.
Not Mad About It, At All
So many were so happy to see Elba nab the Sexiest Man Alive title, since he more than fits the bill.
It's obvious that Twitter was thrilled to see one of their faves win People's Sexiest Man Alive title. Considering that this is Elba everyone's talking about here, can you even blame them for their excitement?